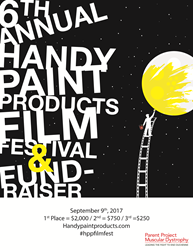 "It's incredibly exciting to see the video contest enter its sixth year," says Mark Bergman, CEO of Bercom International.
Minneapolis, Minn. (PRWEB) May 04, 2017
Bercom International, the manufacturer of HANDy Paint Products, is searching for do-it-yourself painters (and film-making enthusiasts) to enter its 6th Annual HANDy Paint Products' Online Video Contest.
To submit, contestants must produce a short video (1 ½ - 4 minutes long) featuring at least one of the 15 HANDy Paint Products in some way, shape or form (as long as it's legal). Any and all HANDy Paint Products are acceptable for use in a video, including the popular HANDy Paint Pail, Paint Tray, Paint Cup, Roller Cup, Pro Pail, Ladder Pail and Grid. For inspiration, check out these top entries from previous years, which received rave reviews.
"It's incredibly exciting to see the video contest enter its sixth year," says Mark Bergman, CEO of Bercom International. "Every year we are blown away by the hard work that applicants put into their submissions and we look forward to seeing this year's entries."
The first-place winner of the HANDy Paint Products Film Festival receives a $2,000 cash prize (along with a lifetime of bragging rights), with the second and third place winners taking $750 and $250 respectively. All contest entrants receive $50 worth of free HANDy Paint Products and there is an additional $5,000 prize awarded to whomever from the Top 10 finalists can make their video "go viral" on the HANDy Paint Products YouTube channel by the end of 2017 (e.g. with 100,000 views or more).
The deadline for video submissions is September 3, 2017. Entry details can be downloaded online and questions about the contest can be directed to Bercom International at 877-464-1170.
Each of the Top 10 finalists will have the opportunity to see their work on the big screen on September 9, 2017, during the HANDy Paint Products Film Festival at Bercom headquarters in Chanhassen, Minn. The top three winners will be chosen by local celebrity judges.
The Bercom-sponsored event is open to the public and all donations made at the Film Festival will go directly to the Parent Project Muscular Dystrophy.
Registration details are available at handypaintproducts.com.
About HANDy Paint Products
HANDy Paint Products is a painting supplies product line developed by Bercom International. Mark Bergman founded Bercom in 2002 after realizing the need for making painting easier. With his old Folgers® coffee can-turned-paint bucket as inspiration, the HANDy Paint Pail was born. Bercom is located in Chanhassen, Minn. Its line of 15 HANDy Paint Products can be found at most home centers, paint stores, and hardware stores across the country as well as in Canada, Australia and Europe. Learn more about HANDy Paint Products by visiting HandyPaintProducts.com. See demonstrations on YouTube and follow the brand on Facebook, Twitter, Pinterest and Instagram.
# # #