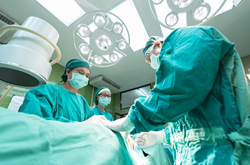 Overall survival needs to be confirmed in a large patient group with longer follow-up.
Raleigh, NC (PRWEB) May 04, 2017
After a 16-year study of mesothelioma surgical techniques, a new University of Zurich study suggests there is still no definitive answer about which one is better. Surviving Mesothelioma has just posted an article on the report. Click here to read it now.
The Swiss study involved 52 pleural mesothelioma patients who had undergone extrapleural pneumonectomy (EPP) and 26 who had lung-sparing pleurectomy/decortication. The team found that complications and relapse rates were similar but that the data on mesothelioma survival was unreliable.
"In the P/D group, many cases were censored and the follow-up time was relatively short," writes study author Dr. Arthur Kostron in the journal Interactive Cardiovascular and Thoracic Surgery. "Overall survival needs to be confirmed in a large patient group with longer follow-up."
Even though EPP surgery is larger and more extensive than P/D (which spares the lungs), the study finds that it took about the same amount of time for mesothelioma tumors to start growing again (13 to 15 months) in both cases.
"This study suggests that the jury is very much still out when it comes to mesothelioma surgery, even though there are many surgeons who strongly favor one technique over the other," says Alex Strauss. "In the end, the final decision is going to depend on the individual mesothelioma patient's situation as well as the preference and experience of the surgeon."
To read more about the findings of the Swiss study, see Report May Fuel Debate Over Mesothelioma Surgery, now available on the Surviving Mesothelioma website.
Kostron, A, et al, "Propensity matched comparison of extrapleural pneumonectomy and pleurectomy/decortication for mesothelioma patients", May 1, 2017, Interactive Cardiovascular and Thoracic Surgery, pp. 740-746, http://www.zora.uzh.ch/136101/
For more than a decade, Surviving Mesothelioma has brought readers the most important and ground-breaking news on the causes, diagnosis and treatment of mesothelioma. All Surviving Mesothelioma news is gathered and reported directly from the peer-reviewed medical literature. Written for patients and their loved ones, Surviving Mesothelioma news helps families make more informed decisions.