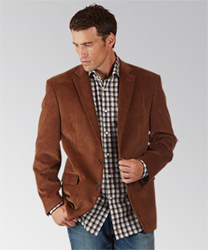 Charlotte, NC (PRWEB) May 05, 2017
E-commerce is growing at a record pace and changing the way consumers purchase many goods and services, creating opportunities for many segments of the retail industry. Among their many benefits, online storefronts have made it possible for retailers to reach customers all over the world. This benefits not only the business as it grows its revenue by servicing markets around the globe, but also the global consumer - who now has access to a greater variety of competitive goods and services.
Westport Big & Tall was a company created to fulfill a need for better quality extended size menswear – a market that was largely underserved in the United States and abroad before Westport emerged. Now, Westport is helping tall and big gentleman all over the world find the clothes they love, which fit them just right. They've partnered with International Checkout, a leader in international order processing and fulfillment, and are currently shipping merchandise to customers in over 200 locales worldwide, including Europe and Asia.
This strategy of global reach meshes well with Westport's business strategy and sartorial philosophy. As an upper-tier purveyor of menswear, Westport searches the world for high-grade fabrics, trims, and silhouettes. The buyers choose what is most relevant to their customers' tastes from thousands of garments, build compelling merchandise collections, and work with manufacturers as necessary to make sure all garments are cut to spec. In the world of extended size menswear, fit is absolutely critical to the success of any garment. This is why Westport develops and implements its own sizing specifications on everything from long sleeve button up shirts and polos, to jeans and shorts. This hands-on approach to product selection and development has allowed Westport to always provide great fitting, high quality big and tall clothing to its customers.
One example of this can be found in Westport's tailored clothing department. The dress clothing found here usually starts with fabric selection from a book of swatches, presented by some of the world's premier fabric mills, such as Loro Piana or Zegna. Once fabrics have been picked out, the Westport buying team looks for the right manufacturer to bring the garment to life according to their vision.
Bob Beausoleil, a senior Westport executive, explains the process more in depth. "Once we nail down the fabric and style that we feel will satisfy our domestic and international clientele, our next task is perfecting the fit," he begins. "We have been successful at coming up with specs that work for both our modern domestic customer as well as our international customer. It's extremely important, but also very tricky, to land on a style and fit that is suitable for our customers here in the US and across the Atlantic. In some cases we go through several rounds of meetings with our fit models to make sure it's perfect." In regards to specific categories, Beausoleil adds, "We often go to a variety of Canadian manufacturers for our tailored clothing. They're ideal because they have the expertise to provide a high quality garment at a relatively reasonable price. Today's high-end or luxury menswear shopper is discerning, but can also be somewhat price-sensitive. It's very important to consider the perception of value on the customer's end when making any kind of merchandising decision."
It would make sense that a company that reaches out to businesses all around the world for their sourcing would also expand its reach to sell globally as well. Going forward, big and tall gentlemen worldwide will have access to the finest in upper-tier menswear that not only fits them, but suits their refined tastes. Discover Westport's high-end collection of big and tall menswear at their website: https://www.westportbigandtall.com/Default.aspx.
About WestPort Big & Tall
Our mission is a commitment to quality. Our goal is to provide our customers with the quality and style that they deserve. This sets Westport apart and allows our customers to enjoy a shopping experience they cannot find anywhere else. Our unending search for the best means that there are always unique exclusive offerings. To learn more, visit us at https://www.westportbigandtall.com