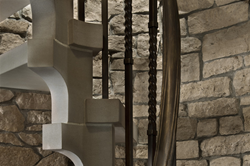 The first impression that you have is that stair.
Bloomington, Ind. (PRWEB) May 05, 2017
In Bloomfield Hills, Mich., a striking design feature – a spiral staircase fabricated of Indiana Limestone – graces a suburban residence that received an acclaimed architectural makeover.
Custom-cut from Indiana buff limestone, the stairs' stacked blocks were delivered to the site, where they were hand-fashioned to the curving profile of an adjacent wall.
The staircase gives access to the basement of the suburban Detroit home, where additional unusual amenities may be seen – a European-style wine room and a walk-in humidor.
"The first impression that you have is that stair," says Robert Clarke, an architect with CBI Design Professionals Inc. of Bloomfield Hills. Clarke co-designed the project.
Clarke's group intended to separate the staircase from the main part of the basement. The decision to build the stairs of Indiana Limestone was taken only midway through the design phase. After months of producing three-dimensional renderings, mock-ups, and considerable trial and error, it became clear that the stone steps could be created without a central support system to hold them in place.
Indiana country stone was used for the walls. A local artisan created iron handrails and spindles for the staircase.
For more information on Indiana Limestone Company and its versatile portfolio of natural stone products, visit indianalimestonecompany.com.
About Indiana Limestone Company
Indiana Limestone Company is unmatched as the premier supplier of Indiana Limestone in a range of beautiful and lasting building products. Founded in 1926 (with predecessor firms that had been quarrying limestone since the mid-1800s), ILCO today remains the provider of choice for this internationally renowned natural stone. Throughout an illustrious history in which its stone has made such iconic structures as the Empire State Building, National Cathedral, and the Pentagon, ILCO has reliably provided the highest quality products and services carefully tailored to the needs of the market with an environmental, natural focus.