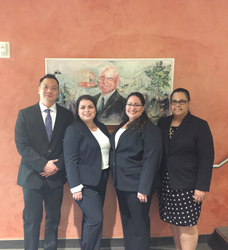 "The opportunity to guide my students through the litigation of a realistic trial was inspiring."
Tampa, FL (PRWEB) May 03, 2017
An adjunct professor at the Tampa satellite location of Cooley Law School, Victoria Cruz-Garcia was one of two coaches for the students participating in this year's competition, which hosted law students from around the country for 3 days in April. The competition focused on emerging issues at the intersection of gaming law and regulation and allowed the students to hone their appellate advocacy skills before prominent jurists and gaming practitioners in the gaming capital of the world.
"The opportunity to guide my students through the litigation of a realistic trial was inspiring," said Cruz-Garcia, a family law attorney at Givens Givens Sparks. "The students worked really hard to apply their knowledge and training and compete with their peers in a setting that was as close to a real-life courtroom as they have witnessed at this point in their pre-professional lives."
Cruz-Garcia represents clients in all facets of family law matters including divorce, child custody, alimony and support actions, as well as enforcement matters. A Stetson College of Law graduate and Rutgers University undergrad, she was the recipient of the '2015 Luis Cabassa Award' by the THBA, was named to the Rising Stars℠ list by "Super Lawyers®" in 2012, 2013 and 2014, and was awarded the Tampa Hispanic Heritage Trailblazer Award in Education in 2014, and the WMU Cooley Law School 'Great Deeds' award in 2013. Cruz-Garcia is currently an adjunct professor at WMU Cooley Law School where she teaches courses on 'Family Violence and Florida Juvenile Dependency and Delinquency.' She is also the co-chair of the Awards Committee for the Hillsborough Association for Women Lawyers and was appointed to the Florida Bar Association Diversity & Inclusion Committee as well as the Judicial Nominating Procedures Committee.
Givens Givens Sparks is a trial law firm representing individuals and their families in state and federal cases ranging from complex high net-worth divorce cases and personal injury/wrongful death actions, to commercial insurance litigation. With more than 135 years of combined professional experience, the Givens Givens Sparks team of lawyers is dedicated to the advocacy and protection of their clients and their families. To learn more about Givens Givens Sparks, please visit: http://www.givenssparks.com.
###
Click on links for access to photos.
Photo #1: Professors Victoria Cruz-Garcia and Barbara Kalinowski with their moot court law student team of (Thomas Yi, Jennifer Diaz, Cynthia Pritchett, Jill Albury and Timothy Siatta).
Photo #2: Victoria Cruz-Garcia (right) with her moot court law student team (Thomas Yi, Jennifer Diaz and Jill Albury).