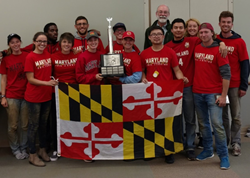 College Park, MD (PRWEB) May 04, 2017
On April 27 and 28, a team from UMD's College of Agriculture and Natural Resources took first place in the 57th National Soils Competition hosted by the Northern Illinois University, where contestants from twenty four universities from seven regions around the country inspected various soil pits and worked to correctly identify, evaluate and describe five soil profiles. The Terps finished fourth in the group portion of the competition, followed by a dominant showing in the individual portion of the contest with all four UMD contestants finishing in the top 11 (among a field of 93). The combined individual and group scores vaulted UMD into first place overall, marking the fourth time a Terp team has won the national title in 57 years.
The practice and contest pits included a collection of soils that were mostly Argiudolls, Hapludalfs, Endoaquolls, and Hapludolls. These were formed from a variety of parent materials including loess, till, outwash, alluvium, colluvium, residuum, and eolian sands. Students from the College of Agriculture and Natural Resources placed as such: Kristi Persing first place; Philip Schwartz fifth place; Shelley Porter ninth place, and Daniel Smith from the A. James Clark School of Engineering in 11th place. The Terp team finished ahead of Kansas State (second), Univ. of WI Platteville (third), Purdue Univ. (fourth) and Univ. of WI Stephens Point (fifth).
"This is a highly prestigious competition with a long, storied history, and it is a tremendous point of pride for our students, our college and the University as a whole to bring home the win," said Martin Rabenhorst, Ph.D of UMD's College of Agriculture and Natural Resources and team coach. "These events provide outstanding educational opportunities for our students – and a chance to study soils, landscapes, geology and agriculture in areas they may never have seen. And while these trips are a lot of work, they also are a lot of fun. Many of our graduates consider soil judging the highlight of their college experiences."
The Terps won the 1972 National Championship in Blacksburg, VA (Coach Martin Rabenhorst as a team member) and then in 1984 in San Luis Obispo, CA (Rabenhorst Coach) and most recently in Platteville, WI in 2013 (Assoc. Professor Brian Needelman Coach). Terp Judger Chenlin Zhu began an MS program in Environmental Science and Technology within the college this semester, and five of the other team members will be graduating this May (Porter, Smith, Persing, Agee, and Kramer.) The college hopes to have all the others back on the team this coming fall when they head to Rhode Island for the NE regional contest.