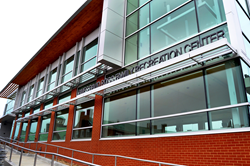 I have no doubt the new recreation center will help us attract great athletes...but most importantly, it will give every student a place to work out, stay healthy, and stay active to call their own. - David A. Ross '78
Washington, Pa. (PRWEB) May 03, 2017
The James David Ross Family Recreation Center opened its doors to the Washington & Jefferson College (W&J) community Friday, introducing a new facility to W&J students, staff, and faculty who will enjoy it for generations.
"Athletics have always been an important part of W&J from the early days of cricket played on the lawn," said W&J President Dr. Tori Haring-Smith. "More than 50 percent of incoming students participate in athletics their freshman year. The board recognized that to attract top students, we needed a facility that allowed them to train."
The Recreation Center is an addition to Henry Memorial Gymnasium, which has long been the home of athletics at W&J. The new 30,000-square foot facility features a three-lane, 167-meter walking/running track, three multi-sport athletic courts marked for basketball, volleyball, and tennis, a new wrestling room, and a general exercise room for activities like yoga and pilates. New offices and recruiting spaces for the Athletics Department are also included.
The facility is open to W&J students, faculty, and staff only; Swanson Wellness Center will continue to house exercise equipment for use by the W&J community, and basketball and swimming events will still be held in Henry Memorial Gymnasium.
The recreation center is named for the family of David A. Ross '78, the project's donor, who also led the construction process. Ross, a former member of the W&J Board of Trustees who serves as a non-trustee member of the Property, Building and Grounds Committee, is the founder of Atlantic Realty, one of largest privately owned real estate developers in the Washington, D.C. area. He has guided the construction and renovation of several W&J buildings, including Swanson Science Center, the renovation of Dieter-Porter Life Sciences Building, and Ross Memorial Park, also named for his family.
The recreation center is a project of An Uncommon Bond: The Campaign for Washington & Jefferson College. The campaign has raised $114 million, and will continue through June 2017. Additional projects of the campaign include the construction of Janet Swanson Tennis Center, which opened on Sept. 11, 2015, and renovations to Dieter-Porter Life Sciences Building. Improvements to U. Grant Miller Library, among other initiatives, are planned.
In addition to improvement projects, another goal of the campaign is to raise the College's endowment by $60 million, and provide $10 million of unrestricted dollars. Endowment funds provide support in several areas, including: increasing financial aid to students; providing additional resources for faculty and students to travel for professional development, attend conferences and competitions, embark on extraordinary travel opportunities, or take on independent research projects around the world; and bring guest speakers to W&J for enlightening on-campus experiences.
"I have no doubt the new recreation center will help us attract great athletes...but most importantly, it will give every student a place to work out, stay healthy, and stay active to call their own," Ross said.
About Washington & Jefferson College
Washington & Jefferson College, located in Washington, Pa., is a selective liberal arts college founded in 1781. Committed to providing each of its students with the highest-quality undergraduate education available, W&J offers a traditional arts and sciences curriculum emphasizing interdisciplinary study and independent study work. For more information about W&J, visit http://www.washjeff.edu, or call 888-W-AND-JAY.