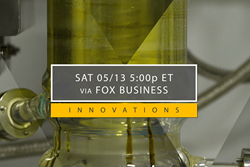 Jupiter, FL (PRWEB) May 08, 2017
Innovations with Ed Begley, Jr. announces the upcoming airing of the award winning series, scheduled to broadcast Saturday, May 13, 2017 at 5:00 pm ET on FOX Business.
In this segment, Innovations will feature Nachurs Alpine Solutions; a specialty chemical company that formulates, markets and distributes NACHURS® and ALPINE® brand liquid fertilizers throughout North America. The show will educate about the company's 70 plus years of history and experience in development and manufacturing of specialty liquid chemical products.
Located in Ormond Beach, Florida, CULER's innovative solutions for the personal cooling category help combat the heat. Known to enhance people's comfort and productivity, the segment educates about its patented Flow Blurring cooling technology designed with the consumer in mind, and how CULER is filling an unmet need within the residential and light commercial cooling markets.
Whale Imaging provides high quality and cost-effective medical imaging solutions, helping to create a superior work environment for surgeons and better outcomes for patients. Viewers will learn how by combining proprietary technologies and advanced manufacturing methods, Whale produces cutting-edge and cost-effective surgical imaging systems to help surgeons perform procedures with speed, ease, and safety.
Finally, Innovations will focus on Helderpad and its collection of hemp processing specialists who are committed to continuous research, development, and diffusion of hemp processing technology. Viewers will see how Helderpad is helping companies excel in the business of cannabis extraction and more.
"This episode if full of exciting breakthroughs taking place across several different industries," said Michael Devine, Senior Producer for the Innovations Series. "We look forward to enlightening viewers on these amazing advancements."
About Innovations & DMG Productions:
Innovations, hosted by award winning actor Ed Begley, Jr., is an information-based series geared toward educating the public on the latest breakthroughs in all areas of society. Featuring practical solutions and important issues facing consumers and professionals alike, Innovations focuses on cutting-edge advancements in everything from health and wellness to global business, renewable energy, and more.
DMG Productions (responsible for creating the Innovations show) includes personnel specialized in various fields from agriculture to medicine, independent films to regional news and more. Our field producers work closely with experts in the field to develop stories. This powerful force enables us to consistently produce commercial-free, educational programming that both viewers and networks depend on.
For more information visit: http://www.InnovationsTelevision.com or contact Ken Sawyer at: (866) 496-4065 or via email at: info(at)innovationstelevision(dot)com.