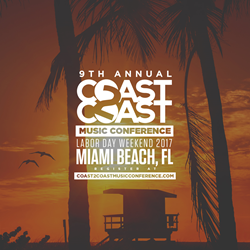 Miami, FL (PRWEB) May 04, 2017
The Coast 2 Coast Music Conference 2017 is coming up soon and the discounted Early Bird prices are only good through the end of May, so artists and guests should book their passes now! For the rest of May the regular pass for access to all regular events over the course of Labor Day Weekend are just $99! That is a discount of over 50% of the regular price of $250, so attendees would be wise to lock in the savings now! VIP passes which allow access to all events including the VIP Yacht Cruise are on sale now for just $200, which represents over 50% savings from the regular price of $500.
The Coast 2 Coast Music Conference is the premier music conference for independent artists, producers, DJs and other music industry professionals. The event takes place every year in Miami Beach over the course of the 3 day Labor Day Weekend, which falls from September 1st through September 4th in 2017. Attendees will be presented with a plethora of events, showcases and most importantly sessions and panels from music industry experts such as Success (Director of A&R at Atlantic Records), Rockwilder (Grammy Winning Producer for Beyonce, Jay-Z, Christina Aguilera & More), and legendary DJs such as Bigga Rankin, DJ Epps. More panelists will be announced monthly as the date gets closer and will be listed Panelists page.
The full schedule of events can be found on the Schedule section of the website, and now includes the Coast 2 Coast LIVE Winner's Circle World Championship, where we will have over 200 of our 1st Place Winners compete for the grand prize of $25,000 cash and an album deal! The winning artist will be promoted by Coast 2 Coast throughout the year including a nationwide tour across the country! Artists can sign up to enter the contest at Coast 2 Coast LIVE and perform in a city of their choice. Be sure to visit the Coast 2 Coast Convention Music Conference site to purchase your passes to the convention before this offer ends.