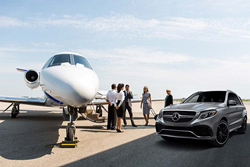 "Flight Plan opens the exclusive world of private jet travel to all our clients, at surprisingly affordable prices," Moreno said. "We like to say that our dealerships are 'where above and beyond comes standard.' Flight Plan proves it."
CLEVELAND (PRWEB) May 05, 2017
The Bernie Moreno Companies have raised the bar again on luxury amenities, this time to a cruising altitude of 41,000 feet.
The Cleveland-based luxury-vehicle dealership group today unveiled "Flight Plan," operated by Sky Quest, is a program that gives every client of Bernie Moreno Companies access to discounted private jet travel.
"Our dealerships are already synonymous with service and amenities," Moreno said. "Flight Plan lets our clients avoid the hassles of airports, the lines, the crowds, the delays, the overbooking. Instead they travel on their schedule, in luxury, aboard an eight-passenger corporate jet with hostess service and five-star dining -- and at significant discounts over typical private jet service."
All Bernie Moreno customers receive Standard Membership into Flight Plan, allowing them to book seats on scheduled flights and special-event trips (e.g. the NBA Finals, the Super Bowl, "Hamilton" on Broadway). They can also charter the entire aircraft or request a flight.
A Platinum Membership ($1,995/year) allows clients to enjoy significantly deeper discounts on all flights, early booking, an additional person on the membership and exclusive gifts, including a $750 gift certificate toward custom-made Tom James clothing and a $500 gift certificate to Alson Jewelers.
MORE
Travel with Flight Plan is booked through the exclusive Bernie Moreno Companies Flight Plan app. Example Platinum Member pricing for a one-day round-trip flight from Cleveland to Chicago comes in at under $1,000 a seat.
"Flight Plan opens the exclusive world of private jet travel to all our clients, at surprisingly affordable prices," Moreno said. "We like to say that our dealerships are 'where above and beyond comes standard.' Flight Plan proves it."
Travel on Flight Plan is aboard a Hawker 800 XPi aircraft, a luxury corporate jet with a cruising altitude of 41,000 feet and speed of 447 knots. All Flight Plan travel is operated through Sky Quest, an FAA-certificated on-demand air carrier.
For more details on Flight Plan, visit flightplan.berniemoreno.com.
For more information or to set up an interview with Bernie Moreno, contact Ralph Stawicki, Director of Marketing, at 440-567-9144.
In 2005, Bernie Moreno purchased a small, underperforming Mercedes-Benz dealership on the west side of Cleveland, turning it into Mercedes-Benz of North Olmsted, the flagship dealership of his organization. After just one year, that dealership earned a coveted "Best of the Best" award from Mercedes-Benz and would go on to win the award for 10 consecutive years, something no other Mercedes-Benz dealer has ever done. In the meantime, Bernie Moreno Companies has become one of the fastest growing and most admired auto-dealership organizations in the country, earning awards for its growth, client service, community involvement and employee engagement.