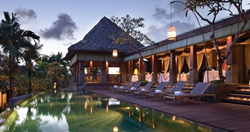 ...it's a surprise the fabled Island of the Gods didn't top the list sooner.
Glendale, CA (PRWEB) May 12, 2017
Bali has the honour of being named TripAdvisor's top destination for 2017, stealing the title from evergreen favourite, London, and passing other beloved destinations including Paris, Marrakech, and Siem Reap. Though perhaps it's a surprise the fabled Island of the Gods didn't top the list sooner. In one of the world's most affordable destinations, A Bali vacation invites travellers to immerse themselves in luxury at a bargain price. It also surrounds them with a Hindu culture unique in Muslim-majority Indonesia, creating a tropical corner of Asia unlike any other.
For Goway's Asia division, Bali has been a favourite destination for years. Right now until June 30, Globetrotters booking Goway's Luxury Bali Vacation will save US $500 per couple, and receive a complimentary 60-minute massage, just to ease the transition into holiday mode. This 10-day package includes international flights from North America, private transfers, seven nights' luxury accommodation at two different Bali resorts showcasing different parts of the island, daily breakfast, and some day touring. Prices start at just $1899 US from Los Angeles, or $2699 CA from Vancouver, with highly competitive rates from other major cities including New York, Calgary, and Toronto. The offer is valid for travel until the end of May 2017, or between November 1, 2017 and March 31, 2018.
Globetrotters who just want to hit the beach with plenty of free time may wish to book a Bali Beach Escape. A 5-night stay at the Kayana Seminyak Villas includes a complimentary night, plus a 45-minute massage. This deal is one of a wide range of value added extras Goway travellers can enjoy when booking a Bali vacation in 2017.
Since 1970, Goway has been providing unforgettable travel experiences to Africa, Asia, Australia, New Zealand, Central & South America, Idyllic Island destinations and Europe. Today Goway is recognized as one of North America's leading travel companies for individuals, families and groups to select exotic destinations around the globe. Goway has offices in Toronto, Vancouver, Los Angeles, Manila, and Sydney, Australia.
For reservations and information, visit http://www.goway.com, or call 1-800-387-8850.