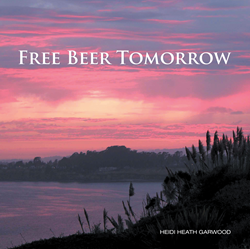 APTOS, Calif. (PRWEB) May 08, 2017
An Aptos-based graphic designer and author, who is also an alcoholic in recovery, has released her debut self-help book designed for addicts and their loved ones. In "Free Beer Tomorrow," Heidi Heath Garwood offers readers a soft landing to God through inspirational messages and colorful photographs.
Heath Garwood's own recovery journey began more than a decade ago, just three days before he 50th birthday. Now sober for more than 12 years, Heath Garwood attributes her sobriety to her deep faith in God and devotion to personal honesty.
"The disease of addiction needs to be addressed and treated daily with a commitment to telling the truth and staying connected to God," Heath Garwood said. "As a transformed woman, I am forever grateful to God for speaking through me to create 'Free Beer Tomorrow.' My prayer is to give back through this book what was so freely given to me."
'Free Beer Tomorrow' offers those in the grips of addiction and their family members the reassurance that they are not alone on the road to recovery. Through short messages, the book provides those in need a soft landing to God.
"Free Beer Tomorrow"
By Heidi Heath Garwood
ISBN: 9781512757866 (paperback); 9781512757859 (electronic)
Available at the WestBow Press Online Bookstore, Barnes & Noble and Amazon
About the author
Heidi Heath Garwood is 12 years sober and has owned her own graphic design business, Heath Design, for more than 35 years. In her spare time, she enjoys painting water color portraits of dogs at her home in Aptos, Calif. "Free Beer Tomorrow" is a companion to Heath Garwood's other two books, "Hair of the Dog" and "I'll Have Mine Straight Up." To learn more, please visit http://www.SquareBooksInTheLight.com.
###
Review Copies & Interview Requests:
LAVIDGE – Phoenix
Danielle Grobmeier
480-998-2600 x 614
dgrobmeier(at)lavidge(dot)com
General Inquiries:
LAVIDGE – Phoenix
Maggie Driver
480-998-2600 x 584
mdriver(at)lavidge(dot)com