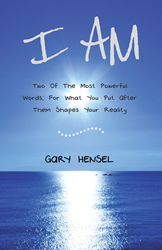 LAKE HAVASU CITY, Ariz. (PRWEB) May 08, 2017
A Northwest Arizona-based author has published his debut guide to personal growth, as told through his struggle with and ultimate recovery from late-stage Lyme disease. In "I AM," Gary Hensel explores themes of self-discovery and releases religious dogma.
Hensel, a tenured college professor with 20 years of classroom experience, spent years grappling with traditional medical treatments before he took a holistic approach to healing his illness. A product of the lessons he learned in his recovery, his book offers readers simple bits of wisdom that distill deep, universal knowledge down to easily grasped inspiration.
"I wrote this book to help in my recovery and to inspire others to seek out personal growth," Hensel said. "These simple realizations give me purpose and truly speak to the power of a person's desire to know themselves on a deep and meaningful level."
A simplification of historic and profound wisdom, Hensel delivers to readers a forward-thinking message of peace, happiness and hope for humanity and emphasizes the importance of creating joy in life.
"I AM"
By Gary Hensel
ISBN: 978-1-504-37179-7 (hardback); 978-1-504-37178-0 (paperback); 978-1-504-37190-2 (electronic)
Available at the Balboa Press Online Bookstore, Barnes & Noble and Amazon
About the author
Gary Hensel has taught business management at the college level for two decades. Hensel currently resides in Northwest Arizona, and his second book, "The Wisdom of the Universe – I AM Book 2," will be released in Fall 2017. To learn more, please visit http://www.garyhensel.com.
###
Review Copies & Interview Requests:
LAVIDGE – Phoenix
Danielle Grobmeier
480-998-2600 x 614
dgrobmeier(at)lavidge(dot)com
General Inquiries:
LAVIDGE – Phoenix
Maggie Driver
480-998-2600 x 584
mdriver(at)lavidge(dot)com