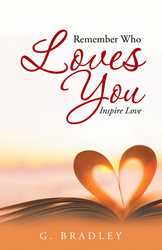 MANITOWOC, Wis. (PRWEB) May 08, 2017
A Manitowoc, Wis.- based author has released his debut book that explores the depths and differentiations of love. In "Remember Who Loves You," George Bradley, a retired special education teacher, offers a fresh perspective on the importance of expanding one's "love vocabulary" and seeking out the small joys that come with different genres of affection.
Bradley began writing his book years ago when he realized that he had not paid particular attention to the expression of love through words, and he began recording simple verses of poetry in order to better reflect on feelings of love. Ultimately, his compilation of short, meaningful realizations took the form of "Remember Who Loves You."
"When I was in my mid-30s, I started a comprehensive study of personal enlightenment through reading and workshops with various mentors," Bradley said. "Over the past 10 years, I have concentrated more on being my own teacher through reflection and meditation."
Through the book's universal explanation of the instinctual and spiritual nature of love, Bradley encourages readers to embrace the ability of love to provide comfort and healing and to also hone their own ability to verbally communicate love.
"Remember Who Loves You"
By George Bradley
ISBN: 978-1-504-37427-9 (hardback); 978-1-504-37426-2 (paperback); 978-1-504-37455-2 (electronic)
Available at the Balboa Press Online Bookstore, Barnes & Noble and Amazon
About the author
George Bradley is a retired special education teacher who holds a master's degree in education. He currently resides in Manitowoc, Wis.
###
Review Copies & Interview Requests:
LAVIDGE – Phoenix
Danielle Grobmeier
480-998-2600 x 614
dgrobmeier(at)lavidge.com
General Inquiries:
LAVIDGE – Phoenix
Maggie Driver
480-998-2600 x 584
mdriver(at)lavidge.com