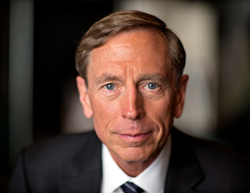 General Petraeus is one of the most successful and decorated military leaders of our generation. We are confident that his presence will attract great enthusiasm in support of the Navy SEAL Foundation. -Bill Strong
Chicago, IL (PRWEB) May 04, 2017
The Navy SEAL Foundation announced today that respected four-star General (Ret) David H. Petraeus will serve as the keynote speaker for the 6th Annual Navy SEAL Foundation Chicago Evening of Tribute event chaired by Sandi and Bill Strong on the evening of Wednesday, September 27th.
"Sandi and I are honored to chair this special event for an exceptional organization. General Petraeus is one of the most successful and decorated military leaders of our generation. We are confident that his presence will attract great enthusiasm in support of the Navy SEAL Foundation.
Since the attacks of September 11, 2001, there has been an unprecedented demand for our Special Operations Forces. Never before has so much been asked of so few, from so many, for so long. The Navy SEAL Foundation Chicago Tribute event is a superb way for each of us to say thank you to the Naval Special Warfare community and their families for their service to our Nation," stated Bill Strong.
The Navy SEAL Foundation's mission is to provide immediate and ongoing support and assistance to the Naval Special Warfare (NSW) community and its families.
U.S. Navy SEALs have been in sustained combat for over 16 years, performing hazardous work in unforgiving environments at an unrelenting pace. SEALs are currently deployed in over 30+ countries across the globe and spend up to 270 days each year in harm's way. The Navy SEAL Foundation stands behind these warriors and their families by providing a comprehensive set of programs specifically designed to improve health and welfare, build and enhance resiliency, empower and educate families and provide critical support during times of illness, injury or loss.
Like the community it serves, the Foundation is a solid, high performing organization committed to excellence. 93 cents of every dollar donated goes directly to current or future programs. This year, the Navy SEAL Foundation received its 5th consecutive 4-star rating from Charity Navigator, a top charity watchdog, for sound fiscal management and commitment to accountability and transparency (top .6% of all rated charities).
To learn more about the Navy SEAL Foundation and the Chicago Evening of Tribute, please visit http://bit.ly/ChicagoEOT2017 or call Jessica Barr or Lisa Wagner at 630-472-9661.
# # #