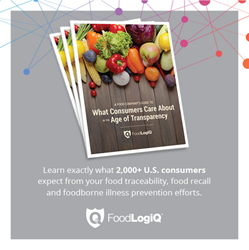 Durham, NC (PRWEB) May 04, 2017
FoodLogiQ, the leading SaaS provider of traceability, food safety and supply chain transparency solutions, polled over 2,000 U.S. consumers to gauge their sentiment around food traceability and expectations for food companies regarding recalls and foodborne illness. Additionally, the survey posed questions around consumer preference for the identification of food sources with regard to labeling and menus. The complete survey and its findings have been published in A Food Company's Guide to What Consumers Care About in the Age of Transparency, now available as a free download.
Key insights from the FoodLogiQ survey include:

Over 50% of respondents expect food companies to fully address a recall or foodborne illness within 1-2 days.
If a brand/restaurant that consumers like experiences a recall leading to consumer sickness, nearly 25% of respondents admitted they would never use the brand or visit the restaurant again. 35% of respondents will avoid this company for a few months and only maybe return after the issue has been fully resolved.
With regard to transparency in labeling, 54% of respondents want as much information as possible on the label, and nearly 40% want country of origin, allergen alerts and GMOs all identified on the label.
"Simply put, consumers are demanding more transparency and stronger traceability from the food industry," said FoodLogiQ CEO, Dean Wiltse. "As a result, we're seeing increased regulation and compliance standards – with the expectation being that food companies should be held accountable for any potential recall or foodborne illness – and that the consuming public are made aware of these issues as quickly as possible. It is only with strong end-to-end traceability within the supply chain that allows companies to provide this level of transparency, ensuring that their customers and brand image remain intact."
Breaking data from the FoodLogiQ study even further – For respondents who self-identified as "caring deeply about the quality of food that I eat," a higher percentage (44%) claimed that if a brand or restaurant that they liked experienced a recall or contamination leading to consumer sickness – they would avoid the brand/restaurant for a few months and only maybe return once the problem is resolved, while nearly 20% said that they would never use the brand/or visit the restaurant again.
Additionally, respondents who care about food quality also placed a great deal of value in the rate of response to recalls, with 55% citing 1-2 days as the acceptable amount of time in which a food company should be fully addressing a recall or foodborne illness. Interestingly, participants who identified on the other side of the spectrum as "generally eating just about anything" placed similar value in the importance of speed with regard to recalls, with 45% still expecting the response rate to be 1-2 days.
To read all the findings, download the free white paper, A Food Company's Guide to What Consumers Care About in the Age of Transparency. Please visit Booth #613 at the Food Safety Summit on May 8-11, 2017 in Rosemont, IL to learn more about FoodLogiQ or request a consultation.
About FoodLogiQ
FoodLogiQ® LLC is a leading SaaS provider of food safety compliance, traceability, and supply chain transparency software solutions. We help restaurant operators, food retailers and other food companies achieve end-to-end traceability while supporting safe and high quality food products across the supply chain. FoodLogiQ Connect is an online supplier community used by food companies to manage quality, safety, audit, regulatory compliance and traceability needs across their supply chains. To meet mounting regulatory requirements and consumer demands for transparency, food companies are leveraging FoodLogiQ Connect to validate supplier compliance with food safety and act with confidence in the event of a food safety or quality issue. To request a demo, please visit [http://www.FoodLogiQ.com/demo.