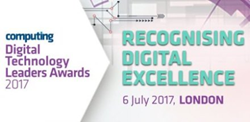 "We are thrilled and honored to again be recognized by Computing as one of the best places to work in digital." ~ Christian Blume, CEO, cleverbridge
Cologne, Germany (PRWEB) May 04, 2017
cleverbridge, a provider of global commerce, billing and payment solutions, announces Computing has named cleverbridge a finalist for the 2017 Computing Digital Technology Leaders Awards. cleverbridge is a finalist in the Best Place to Work in Digital - Large Organizations category for creating an environment where talent can grow and thrive. Winners of the awards will be announced at a gala event on July 6 in London.
The Computing Digital Technology Leaders Awards recognize the achievements of the individuals and companies who are innovating on the front line of the digital technology stack: from website design and coding to UX and project management, from scrum masters and product managers, all the way up to the chief digital officer. The Best Place to Work in Digital - Large Organizations award celebrates organizations with over 250 employees that possess a digital culture that embraces employee ideas; training and supporting staff development on digital skills; retaining and developing digital staff; and are working to remove organizational silos to push a clear digital strategy.
"We are thrilled and honored to again be recognized by Computing as one of the best places to work in digital," said Christian Blume, CEO, cleverbridge. "Every day, our culturally diverse teams innovate together, challenge one another, and collaborate across continents to deliver the best possible experience for our clients and customers. I view this award as a testament to those continued efforts and to our employees who make this a great place to work."
This is the second consecutive year cleverbridge has been named a finalist in the Digital Technology Leaders Awards; the company was named a 2016 finalist in the Best Place to Work in Digital - Small and Medium-sized Enterprises (SMEs) category and Front-End Developer Steph Milovic was a finalist in the Product Manager of the Year category.
Since its founding in 2005, cleverbridge has focused on fostering a strong company culture as a global organization, which has resulted in a great deal of industry recognition. The company was named No. 20 on the 2016 Top German IT Employers list; National Champion representing Germany in the 2014/15 European Business Awards' Employer of the Year Award category; and an Owler 2016 HOT in Cologne Award Winner, as one of the most popular, top trending companies in Cologne. cleverbridge's Chicago office was also named to Chicago Business Journal's Best Places to Work Awards, Chicago Inno's 2016 Coolest Companies, Crain's Chicago Business' Coolest Offices and Brill Street's Top 50 Employers for Gen Y Emerging Talent in Chicago.
To view the 2017 Computing Digital Technology Leaders Awards finalists, visit http://events.computing.co.uk/digitalleadersawards. To learn more about cleverbridge, please contact inquiry(at)cleverbridge(dot)com or visit http://www.cleverbridge.com.
About cleverbridge
cleverbridge provides flexible commerce solutions for monetizing digital goods, online services and SaaS. Our cloud-based commerce platform simplifies recurring billing, optimizes the customer experience and offers comprehensive global payment capabilities. Leveraging cleverbridge expertise, technology and services, clients effectively increase customer acquisition and retention while rapidly expanding into international markets for revenue growth. cleverbridge is headquartered in Cologne, Germany with offices in Chicago, San Francisco and Tokyo. For more information, visit http://www.cleverbridge.com.