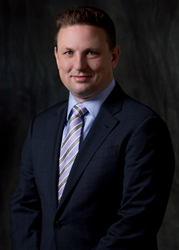 Our clients trust us with their most important matters because we are aggressive, creative, and passionate about finding practical solutions to complex problems
Portland, Oregon (PRWEB) May 16, 2017
Gabe Weaver, a Partner in Ball Janik LLP's Portland office, has been appointed to the Board of Directors of St. Andrew Legal Clinic (SALC). SALC is a unique public interest law firm that provides legal services to low-income families. The Clinic plays a vital role in protecting families from domestic violence by providing legal advocacy for issues of adoption, child custody and support, protection orders, guardianship, parenting time, and spousal support. The clinic has been defending Oregon's most vulnerable families since 1979 and in 38 years has helped over 55,000 Oregonians and their 75,000 children.
Gabe Weaver is a business litigator and trial lawyer with broad experience representing clients in high-stakes litigation in state and federal court, and before arbitration panels. Mr. Weaver has represented contractors, design professionals, and owners in numerous complex construction disputes. His practice also includes assisting financial institutions with troubled loans, workouts, fraudulent transfer allegations, and lender liability claims. He has represented domestic and international companies, financial services firms, accounting firms, start-ups, technology companies, directors, and officers in matters involving contract disputes, negligence, securities fraud, breach of fiduciary duty, and shareholder derivative complaints. Mr. Weaver also represents individuals and estates in catastrophic personal injury and wrongful death claims.
Prior to joining Ball Janik in 2012, Mr. Weaver was a litigation associate at Milbank, Tweed, Hadley & McCloy LLP in Los Angeles, California. At Milbank, Mr. Weaver was part of the team that successfully spearheaded the largest ever in-court restructuring of a gaming company. He also represented insurers and reinsurers in litigation and reinsurance arbitrations involving both property/casualty and life insurance and represented private equity funds in connection with partnership disputes and securities cases. Before he joined Milbank, Mr. Weaver was a litigation associate at Cadwalader, Wickersham & Taft LLP in New York, New York. Mr. Weaver is a graduate of the Boston University School of Law, where he was a member of the Boston University Law Review.
Mr. Weaver enjoys spending his free time with his family and playing tennis in Portland, Oregon.
About Ball Janik LLP
Ball Janik LLP is a Pacific Northwest law firm headquartered in Portland, Oregon, with an office in Orlando, Florida. For over thirty years, Ball Janik LLP has been providing outstanding legal services in the areas of bankruptcy and creditor rights, commercial litigation, construction and design, construction litigation, employment, real estate and land use, insurance recovery for policyholders, and securities litigation.
Ball Janik LLP represents large and small businesses; state, municipal and local governments; associations; schools and universities; and individuals. Ball Janik LLP provides clients an aggressive, skilled, team approach to solve problems and achieve results. Ball Janik LLP has been recognized by Chambers USA, U.S. News & World Report and Best Lawyers®, The Best Lawyers in America©, and Corporate International. Ball Janik LLP's success and integrity have repeatedly made it one of "Oregon's Most Admired Professional Firms," according to the Portland Business Journal's survey results of CEOs throughout the region.