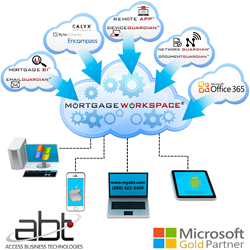 "These partners have a deep expertise that puts them in the top of our partner ecosystem, and their proficiency will help customers drive innovative solutions."
Folsom, CA (PRWEB) May 04, 2017
ABT's gold competency demonstrates a "best-in-class" ability and commitment to meet Microsoft Corp. customers' evolving needs in today's mobile-first, cloud-first world and distinguishing itself within Microsoft's partner ecosystem.
To earn a Microsoft gold competency, partners must successfully complete exams (resulting in Microsoft Certified Professionals) to prove their level of technology expertise, and then designate these certified professionals uniquely to one Microsoft competency, ensuring a certain level of staffing capacity. They also must submit customer references that demonstrate successful projects, meet a performance (revenue and or consumption/usage) commitment (for most gold competencies), and pass technology and/or sales assessments.
ABT is leveraging several of Microsoft technologies, alongside their own, in to their MortgageWorkSpace®. MortgageWorkSpace® is a suite of cloud based products exclusively from ABT that solves the unique security, regulatory, and data challenges facing the mortgage industry.
Access Business Technologies uses this expertise to deliver excellent technological services to its customers."By achieving a Gold competency, partners have demonstrated the highest, most consistent capability and commitment to the latest Microsoft technology," said Gavriella Schuster, corporate vice president, Worldwide Partner Group at Microsoft Corp. "These partners have a deep expertise that puts them in the top of our partner ecosystem, and their proficiency will help customers drive innovative solutions."
Access Business Technologies also sells through the Microsoft Cloud Solution Provider program. This licensing model enables ABT to be the center of the customer relationship by providing direct billing, the ability to sell combined offers and services, as well as directly provision, manage and support products and services.
About Business Technologies
Access Business Technologies, headquartered in Northern California, was founded in 1999 as a leading provider of hosted, on-demand software for mortgage loan origination, servicing and pipeline management. Access Business Technologies (ABT) provides access to business technologies that empower mortgage professionals to safely perform at the top of their game anytime, anywhere. ABT proactively supports, defends and manages game-changing technologies and processes that help mortgage professionals excel. We are a certified SSAE 16 Type II cloud solution provider to over 500 mortgage financial institutions. We are partnered with nearly a dozen leading mortgage software vendors. Our partnerships with the best mortgage software in the world integrate our cloud suite of products, to empower your workforce to produce more loans safely anywhere and anytime.