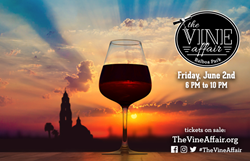 San Diego, CA (PRWEB) May 04, 2017
Event-goers will be treated to festive, unique themes at each museum participating in Balboa Park's newest event, The Vine Affair, a stylish celebration of wine, art, beer, artisan food and live entertainment. This can't-miss event is presented by the Balboa Park Cultural Partnership on Friday, June 2, 2017, 6:00-10:00 p.m.
Attendees will progress through five of Balboa Park's museums while enjoying unique art installations, live music, wine and wine education.
In reference to the idea of "liquid courage," and the romantic connotations of wine, the San Diego Art Institute's Eclectic theme will explore wine's place in popular culture through live sculpture, video art and participatory performance—karaoke. In keeping with the eclectic theme, food tastings range from cheese to fresh fruit to chocolate, while beverages include wines, coffee, even sake.
The Balboa Park Conservancy works to sustain, enhance, and envision the future Balboa Park. In conjunction with The Prado Restaurant, they will honor Balboa Park's heritage with a Spanish themed tasting room featuring several varieties of Spanish wine, paella, tapas, and Spanish guitar.
The San Diego Model Railroad Museum features historic railroads from the 50s and 60s, and will swing into the mid-century glamour of the era with jazz, retro inspired flavors, a live-performance painting and chic mid-century modern design displays for a unique photo booth experience.
The San Diego History Center tasting gallery will celebrate the history and heritage of San Diego's Jewish Community with an exhibition that begins with pioneers who arrived in 1850. Enjoy live entertainment from local klezmer band, Yale Strom & Hot Pstromi, a fusion of traditional klezmer, new Jewish music, Gypsy, khasidic, world beat and Balkan music. Food tastings include chocolate truffles and traditional hamantash cookies. This tasting gallery will also feature Jewish wine and beer.
The game is afoot! The Fleet Science Center will feature a British theme in honor of their current exhibition, Sherlock Holmes and the Clocktower Mystery. Enjoy Victorian-era London with featured steampunk group The Velveteen Band. The Velveteen Band is an eclectic musical sideshow that delivers a wonderland dreamscape, set to capture the imagination and rock out. British themed food, sherry and a wine-style beer round out this tasting gallery.
Tickets are on sale now at http://www.thevineaffair.org. Unlimited tasting—$65, VIP—$100, designated driver—$35.
For more information, visit our website http://www.thevineaffair.org, or follow us on Facebook https://www.facebook.com/TheVineAffair/, Twitter https://twitter.com/@The_Vine_Affair, & Instagram https://www.instagram.com/thevineaffair.
ABOUT BALBOA PARK CULTURAL PARTNERSHIP
Balboa Park Cultural Partnership is a nonprofit organization through which 30 arts, science and cultural institutions in Balboa Park collaborate to achieve shared goals. By helping these groups achieve greater organizational efficiency, innovation and excellence, it seeks to contribute to the vitality and sustainability of Balboa Park. For more information visit http://www.bpcp.org.