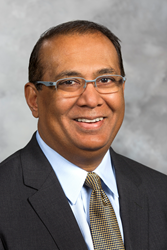 St. Petersburg, Fla. (PRWEB) May 04, 2017
Anesthesiology expert Mohamed Rehman, M.D. joins Johns Hopkins All Children's Hospital as chair of the Department of Anesthesia and will also serve as professor of anesthesiology and critical care (pending academic review) with the Johns Hopkins University School of Medicine. Nationally recognized for his medical and clinical informatics expertise, Dr. Rehman is also establishing the Perioperative Health Informatics Unit within the hospital's Health Informatics Core, which uses electronic health data to improve care and increase understanding of children's illnesses, while lowering the cost of care.
"Dr. Rehman's expertise will help innovate our anesthesia program and perioperative care by the use of data analytics for real time assessment of patients in the operating room – anticipating problems before they happen via trends," says Jonathan Ellen, M.D., president and vice dean of Johns Hopkins All Children's Hospital.
Previously Dr. Rehman was a professor of clinical anesthesiology and critical care and professor of pediatrics at the University Of Pennsylvania School Of Medicine. He held numerous leadership roles at the Children's Hospital of Philadelphia (CHOP), including director of transplant anesthesia, and was the anesthesia team leader for the world's first bilateral hand transplant and several conjoint twin separations. He also developed the first biomedical informatics program within a pediatric anesthesia and critical care program while at CHOP, where he was the first endowed chair in biomedical informatics and entrepreneurial sciences. Dr. Rehman is the author of more than 50 original research publications and review articles and more than 70 scientific abstracts. At the national level, he currently chairs the Biomedical Informatics and Technology Group of the Society for Pediatric Anesthesia and is a past president of the Society for Technology in Anesthesia.
About Johns Hopkins All Children's Hospital
Johns Hopkins All Children's Hospital in St. Petersburg is a leader in children's health care, combining a legacy of compassionate care focused solely on children since 1926 with the innovation and experience of one of the world's leading health care systems. The 259-bed teaching hospital, ranked as a U.S. News & World Report Best Children's Hospital, stands at the forefront of discovery, leading innovative research to cure and prevent childhood diseases while training the next generation of pediatric experts. With a network of Johns Hopkins All Children's Outpatient Care centers and collaborative care provided by All Children's Specialty Physicians at regional hospitals, Johns Hopkins All Children's brings care closer to home. Johns Hopkins All Children's Hospital consistently keeps the patient and family at the center of care while continuing to expand its mission in treatment, research, education and advocacy. For more information, visit HopkinsAllChildrens.org.