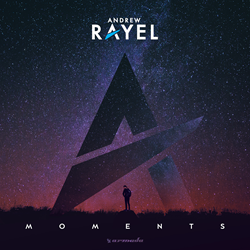 With MOMENTS, the hits keep coming with Andrew Rayel's fans turning up to his live shows already singing along to every word.
New York, NY (PRWEB) May 05, 2017
Memorable. Electrifying. Rousing. Internationally acclaimed electronic dance music (EDM) DJ and producer, Andrew Rayel, is a master at commanding the emotions of music-lovers who come out to see him perform. Andrew Rayel's MOMENTS (Armada Music) album is out now.
Since storming the global stage with Find Your Harmony, his beautiful, sophisticated debut album in 2014, Andrew Rayel has been on a nonstop tear circling the earth numerous times to bring his sounds to music-lovers on every continent. His fans inhabit every corner of civilization and they often refer to themselves with the hashtag, #RayelFamily. It's not unusual to spot fans at Rayel's live shows wearing his logo and song titles emblazoned across their bodies and clothing. In the hours immediately surrounding the official MOMENTS album release, EDM-related social media saw an uptick in activity as MOMENTS-related visuals, music and messaging hit. In the weeks and months surrounding the official MOMENTS album release, Andrew Rayel toured relentlessly, crisscrossing North America and playing more than 20 dates on the MOMENTS tour, a jaunt that is still in progress.
Four album singles were released prior to the full MOMENTS album, namely, "I'll Be There," "Connected," "Tacadum" and "My Reflection." The hits keep coming and "Lighthouse" will be the next single released a couple of weeks following the album. Each single rapidly gains a worldwide following with Rayel fans turning up to his shows passionately singing along to every word. "Heavy Love" will also make a splash in the U.S. with its debut on FM radio.
Hailed by Armin van Buuren as "the future of trance music," Andrew Rayel (real name: Andrei Rata) is a classically trained electronic dance music DJ and producer from Moldova often referred to as the "modern-day Mozart." As a DJ, Rayel exudes an unbridled enthusiasm for the music he plays and his onstage performances are electric and filled with physical energy. Drenched in a well-earned sweat after every set, Rayel earns his position as a bandleader, stirring up his crowds' passion as much with his music selection as with his bodily vigor. He has DJ'd the world's biggest festivals including Ultra Music Festival in Miami, TomorrowLand in Belgium and TomorrowWorld in Atlanta, Stereosonic in Australia, Global Gathering in the UK and other countries, Electric Daisy Carnival in Las Vegas, Electric Zoo in New York, Transmission Festival in various countries, Ministry of Sound in the UK, Dreamstate in San Bernardino, Electronic Family in Amsterdam, Zoukout in Singapore and Together Festival in Thailand. Rayel is a regular on the lineup at various ASOT stages around the world. Nightclub residencies see him performing onstage at superclubs including Marquee Nightclub & Dayclub in Las Vegas, Marquee and Lavo in New York, Ushuaïa Beach Club in Ibiza, Zouk in Singapore and Kuala Lumpur, Escape in Amsterdam and Ministry of Sound in London.
Tracklist for Andrew Rayel's Moments:
01. Andrew Rayel - Moments
02. Andrew Rayel feat. Eric Lumiere - I'll Be There
03. Andrew Rayel & KhoMha - All Systems Down
04. Andrew Rayel & ATB - Connected
05. Andrew Rayel feat. Kristina Antuna - Once In A Lifetime Love
06. Andrew Rayel & Emma Hewitt - My Reflection
07. Andrew Rayel feat. Jonathan Mendelsohn - Forgiven
08. Andrew Rayel & Max Vangeli feat. Kye - Heavy Love
09. Andrew Rayel feat. Jonathan Mendelsohn - Home
10. Andrew Rayel & Jochen Miller feat. Hansen Tomas - Take It All
11. Andrew Rayel - Let It Be Forever
12. Andrew Rayel - Back To The Moment
13. Andrew Rayel & Christina Novelli - Lighthouse
14. Andrew Rayel feat. Angelika Vee - Never Let Me Go
15. Andrew Rayel - Tacadum
16. Andrew Rayel - Winterburn [with Digital X & Geert Huinink feat. Sylvia Tosun]
Listen to Andrew Rayel, Moments, here: https://AndrewRayel.lnk.to/MomentsMA
For more information on Andrew Rayel, RedOne, MaRLo, Aly & Fila, Giuseppe Ottaviani, Markus Schulz, Price & Takis, Assaf, X-Change, Judah, Fatum and artists like Armin van Buuren, contact EMILY TAN Media Relations (U.S.), +1(917) 318-3758, EmilyEmilyTan(at)aol(dot)com. Follow EMILY TAN Media Relations on Twitter @EmilyEmilyTan and LinkedIn http://www.linkedin.com/pub/emily-tan/4/342/70b.
# # #