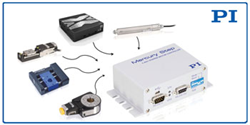 Auburn, MA (PRWEB) May 04, 2017
Precision positioning systems industry leader PI (Physik Instrumente) has released a higher performance model of its successful Mercury Stepper Motion controller. Stepper motors take up discrete positions in a revolution of a constant distance. Typical commercial models provide 200 to 1000 full steps per revolution. Designed to deliver more than 2,000 times the basic motor resolution, the C-663.12 Mercury controller is the newest addition to PI's suite of motion control solutions.
Compact Motion Controller, A Complete Package, Daisy Chain for Multi-Axis Operation
PI's compact C-663.12 motion controller is designed for 2-phase stepper motors, in open-loop or closed-loop operation commanded by USB or RS-232. Up to 16 units can be combined via daisy chain to operate multi-axis motion systems. The Mercury controller includes a 48-V wide-range-input power supply, and all cables required for operation. Programmable digital and analog I/O lines and input lines for limit and reference point switches controlled via TTL signals are also integrated.
Data Recorder, Auto-Calibration ID Chip, Quick Start Up, Comprehensive Software Package
The C-663.12 is equipped with a data recorder for high speed tracing, ID chip compatibility for quick start-up and on-the-fly parameter changes, and exchange of system components without recalibration. The controllers are delivered with extensive software packages, including drivers for LabVIEW, as well as dynamic libraries for Windows and Linux.
Specifications, Datasheet, More Information >
Standard and Custom Solutions
PI has over 4 decades of experience providing in-house engineered precision motion control solutions, and can quickly modify existing product designs or provide a fully customized OEM part to fit the exact requirements of the customer's application.
About PI
PI is a leading manufacturer of precision motion control equipment, air bearing stages, piezoelectric solutions, and hexapod parallel-kinematics for semiconductor applications, photonics, bio-nano-technology and medical engineering. PI has been developing and manufacturing standard & custom precision products with piezoceramic and electromagnetic drives for 4 decades. The company has been ISO 9001 certified since 1994 and provides innovative, high-quality solutions for OEM and research. The PI group employs more than 1,000 people worldwide in 15 subsidiaries and R&D / engineering centers on 3 continents.