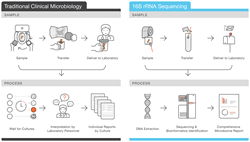 Our team was able to develop the first human microbiome reference ranges by working with data from healthy individuals selected from the largest microbiome dataset in the world.
San Francisco, CA (PRWEB) May 04, 2017
uBiome, the microbial genomics leader, has today published detailed descriptions of a novel approach to testing for gut health. This paper, authored by a team of scientists at uBiome, appears in the leading open access peer-reviewed scientific journal PLOS ONE. For the first time, this new methodology enables comparison of levels of specific microorganisms with reference ranges obtained from healthy individuals.
A number of conditions are associated with changes in the relative abundances of microorganisms in the gut. uBiome's method gives healthcare providers access to a reporting system that is able to identify and quantify intestinal microbes, comparing them with a healthy reference range. uBiome's diagnostic tool reports on 28 clinically relevant taxa, including both pathogenic, beneficial, and commensal bacteria. A more advanced version of this technology is used in the company's SmartGut™ test for doctors to prescribe to their patients. SmartGut is a lab-developed test processed in uBiome's CLIA-certified and CAP-accredited laboratory in San Francisco.
The process reported in the PLOS ONE article identifies 28 clinical prokaryotic targets including 14 species and 14 genera, representing 20 commensals, three probiotics (beneficial microorganisms), and five pathogenic taxa, including C. difficile and Salmonella enterica. uBiome's approach uses next generation DNA sequencing, which enables the calculation of abundance of bacteria and the automatic calculation of healthy ranges. uBiome's vast data set has allowed the development of reference ranges by sequencing stool samples from a cohort of almost 900 healthy individuals.
The new methodology has the potential to contribute to patient diagnosis, treatment, and monitoring. More broadly, it can facilitate epidemiological studies of the microbiome as it relates to overall human health and disease. uBiome has partnered with over 200 researchers around the world on both clinical and academic studies, and looks forward to working with additional partners for clinical testing. uBiome gives out millions of dollars in grants every year to researchers focused on novel applications of microbiome sequencing. Interested researchers can apply by emailing studies(at)ubiome(dot)com.
The co-first author of the PLOS ONE paper is Dr. Daniel Almonacid, uBiome's Vice President of Bioinformatics, who notes: "One of our team's goals in developing the new tool was to find ways to accelerate clinical testing, while also ensuring rigorous accuracy. The new methodology therefore enables bacteria to be identified and quantified automatically, leaving no need for human interpretation and – perhaps – human error."
Dr. Zachary Apte, CTO and co-founder of uBiome, and Adjunct Professor of Biochemistry and Biophysics at the University of California, San Francisco adds: "Our team was able to develop the first human microbiome reference ranges by working with data from healthy individuals selected from the largest microbiome dataset in the world. We're excited to acknowledge the citizen scientist pioneers who made this possible by giving them free kits to empower them to keep exploring their microbiome."
Founded in 2012, uBiome is the world's leading microbial genomics company. uBiome is funded by Y Combinator, Andreessen Horowitz, 8VC, and other leading investors. uBiome's mission is to explore important research questions about the microbiome and to develop reliable, accurate products and services focused on the microbiome.
The full open-access journal article "16S rRNA gene sequencing and healthy reference ranges for 28 clinically relevant microbial taxa from the human gut microbiome" is available here:
http://journals.plos.org/plosone/article?id=10.1371/journal.pone.0176555
Contact:
Julie Taylor
julie(at)ubiome(dot)com
Ph: +1 (415) 212-9214