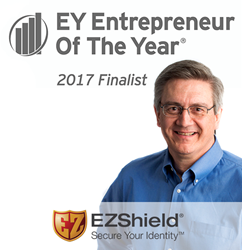 Identity crimes impacted 35.2 million consumers in the U.S. last year. At the end of the day, we're here to help our customers protect themselves from fraud and identity crimes. - Dale Dabbs, EZShield CEO
Baltimore, MD (PRWEB) May 05, 2017
On May 1, 2017, EZShield CEO Dale Dabbs was named a finalist for EY's 2017 Entrepreneur Of The Year Award.
This prestigious award honors exceptional business leaders across 145 cities and 60 countries. The awards program recognizes entrepreneurs who have made great strides in areas such as innovation and financial performance, and those who are committed to their businesses and communities alike.
"I cannot express how proud I am to be an EY Entrepreneur Of The Year finalist, as well as part of the amazing team that makes our success possible," Dabbs said. "It humbles me to think of all that we've achieved since the start [of EZShield], and I only hope to continue with our track record of innovation, exceptional service and tremendous growth. Identity crimes impacted 35.2 million consumers in the U.S. last year. At the end of the day, we're here to help our customers protect themselves from fraud and identity crimes."
EZShield, based in Baltimore, Maryland, is a leading provider of identity theft and fraud protection solutions. The company provides its value-add offerings through partnerships with companies in the financial services, employee benefits, insurance, communications and other select industries. EZShield's go-to-market strategy enables the company to offer an unparalleled customer value proposition for its partners.
"Dale understands that leadership is multi-faceted," said Laura Bruck, EZShield Vice President of Marketing and Solution Strategy. "He knows that effective leadership requires a combination of concise decision-making skills, collaborative teamwork and a strong company culture to achieve our goals. It's clear that he is passionate about the growth of our organization, our people and our surrounding communities."
A gala honoring the finalists and announcing award winners will be held at the Baltimore Marriott Waterfront Hotel on June 28, 2017. On Nov. 18, 2017, overall awards will be announced in Palm Springs, California. For a full list of Maryland finalists, click here.
###
About Entrepreneur Of The Year®
Entrepreneur Of The Year®, founded by EY, is the world's most prestigious business awards program for entrepreneurs, chosen from an independent panel of judges including entrepreneurs and prominent leaders from business, finance, and the local community. The program makes a difference through the way it encourages entrepreneurial activity among those with potential and recognizes the contribution of people who inspire others with their vision, leadership and achievement. As the first and only truly global awards program of its kind, Entrepreneur Of The Year celebrates those who are building and leading successful, growing and dynamic businesses, recognizing them through regional, national and global awards programs in over 145 cities and more than 60 countries. ey.com/eoy
About EY
EY is a global leader in assurance, tax, transaction and advisory services. The insights and quality services we deliver help build trust and confidence in the capital markets and in economies the world over. We develop outstanding leaders who team to deliver on our promises to all of our stakeholders. In so doing, we play a critical role in building a better working world for our people, for our clients and for our communities. EY refers to the global organization, and may refer to one or more of the member firms of Ernst & Young Global Limited, each of which is a separate legal entity. Ernst & Young Global Limited, a UK company limited by guarantee, does not provide services to clients. For more information about our organization, please visit ey.com.
About EZShield
Owned by the Wicks Group of Companies, L.L.C., EZShield was named "Best Overall" Identity Protection Services Leader for the past three years by Javelin Strategy & Research. Their focus is on delivering services through trusted partners in the financial services, benefits/payroll, insurance, telecommunications and warranty markets to provide fraud protection to consumers and small business customers. The Company's full range of identity theft and fraud services are offered on a secure, flexible platform, and backed by best-in-class customer support. For more information about EZShield and our partnership opportunities, visit http://www.EZShield.com.