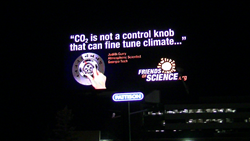 Every form of 'cleantech' is made from high-demand fossil fuels. "Smart Prosperity's report lacks context and is misleading. We wonder why.
Calgary, Alberta, Canada (PRWEB) May 04, 2017
Friends of Science Society has issued a new report entitled "Grounded in Reality" that rebuts the recent claims of the Smart Prosperity Institute's April 2017 policy brief "Accelerating Clean Innovation in Canada" that proposes cleantech as an economic driver and means to stop climate change. Friends of Science Society says these premises are flawed.
"Cleantech and decarbonization are the Holy Grail of investment and government subsidy hype," says Michelle Stirling, Communications Manager for Friends of Science Society, "but practically speaking there have been numerous catastrophic failures of cleantech in recent years, both as investments and as subsidized programs."
Smart Prosperity Institute bills itself as a policy think tank based at the University of Ottawa claiming it delivers world-class research.
Friends of Science Society says Smart Prosperity makes an illogical leap between the economic and cleantech success of certain countries, and assumes the potential for the same result in Canada without examining the context.
In a March 25, 2013 Wall Street Journal interview, Joseph Dear, the former CIO of CalPERS called cleantech a 'noble way to lose money.'
"Our report - "Grounded in Reality" – looks at some of the key success factors of nations like Finland, Israel, Denmark and Sweden which feature 'cluster' qualities touted by Harvard economist and author Michael Porter as competitive factors for economic success," says Stirling.
Friends of Science says that on decarbonization, the Intergovernmental Panel on Climate Change (IPCC) offers no evidence to support their push for wide-scale wind and solar as an alleged cost-effective replacement for coal, as discussed in correspondence of Nov. 5, 2015 with the IPCCC, posted on the Friends of Science blog.
Prof. Michael J. Kelly of Cambridge published a paper in MRS Energy and Sustainability on May 23, 2016 showing that wind and solar could not even support basic society in terms of energy return on energy invested and some climate change mitigation actions 'make things worse.'
Smart Prosperity focuses on the externalities of 'carbon pollution' while making a case for 'cleantech' investment in wind and solar or electric vehicles.
Friends of Science says that if the negative externalities were counted in, these forms of 'cleantech' would not be competitive. Examples include the destructive mining practises for wind farm magnets, as reported Oct. 23, 2013 by the Institute for Energy Research or the lack of managing toxic waste from solar panels, as reported in the Financial Post, Feb. 11, 2013.
"Grounded in Reality" points out that highly competitive cluster nations have active ports, while Canada's ports and export pipelines are blocked by green activists, as reported by Vivian Krause in the Financial Post Oct. 3, 2016.
"Every form of 'cleantech' is made from high-demand fossil fuels," says Stirling. "Smart Prosperity's report lacks context and is misleading."
About
Friends of Science has spent over fourteen years reviewing a broad spectrum of literature on climate change and have concluded the sun is the main driver of climate change, not carbon dioxide (CO2). Friends of Science is made up of a growing group of earth, atmospheric and solar scientists, engineers, and citizens.
Friends of Science Society
P.O. Box 23167, Mission P.O.
Calgary, Alberta
Canada T2S 3B1
Toll-free Telephone: 1-888-789-9597
Web: friendsofscience.org
E-mail: contact(at)friendsofscience(dot)org
Web: climatechange101.ca