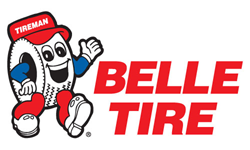 "The Belle Tire team looks forward to servicing Uber drivers at any of our Michigan locations to keep their vehicles in top working performance," said Jarret Kruse, Belle Tire's Director of Strategy & Develop
Allen Park, Mich. (PRWEB) May 04, 2017
Leading regional tire and automotive services retailer, Belle Tire, announced today it has entered in an agreement with popular rideshare provider Uber Technologies, Inc. to be the recommended auto service retailer for its driver partners in Michigan. The new program will offer Uber drivers vehicle inspections, maintenance and service on tires, auto glass and more with plans to keep more money in drivers' pockets.
Under new state regulations for ridesharing companies, Uber drivers will be required by Michigan law to have annual vehicle inspections. The partnership with Belle Tire will help ensure Uber drivers' vehicles are in compliance with state safety guidelines.
"We are proud that Uber selected and trust Belle Tire to be their preferred auto care specialist in Michigan," said Jarret Kruse, Belle Tire's Director of Strategy & Development. "The Belle Tire team looks forward to servicing Uber drivers at any of our Michigan locations to keep their vehicles in top working performance for their safety and the safety of their riders."
All Belle Tire car care technicians are ASE Certified, ensuring the highest-quality service and mechanical expertise in compliance with The National Institute of Automotive Service Excellence's industry standards.
"We are always looking for new, innovative ways to make the Uber experience more rewarding for drivers and pride ourselves on giving them the tools they need to be successful," said Charity Jackson, Uber Spokeswoman. "It is critical that our driver partners' vehicles are safe and reliable for them and their riders, and we are pleased to partner with Belle Tire to give drivers and riders greater peace of mind on the road."
About Belle Tire
Belle Tire Distributors Inc., a family-owned business based in Allen Park, Mich., offers tires and a variety of automotive repair services ranging from auto glass repair and replacement, brakes, alignments, batteries, shocks and struts, exhaust system repair and oil changes. The company was founded in 1922 when it opened the first Belle Tire location in Detroit and has now expanded to more than 95 locations across Michigan, Ohio and Indiana. For more information about Belle Tire, please visit http://www.belletire.com.
About Uber
Uber's mission is to bring reliable transportation to everywhere, for everyone. We started in 2010 to solve a simple problem: how do you get a ride at the touch of a button? Six years and more than two billion trips later, we've started tackling an even greater challenge: reducing congestion and pollution in our cities by getting more people into fewer cars.
# # #