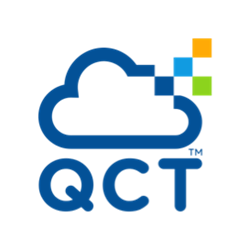 With QCT's new systems based on the Intel® Xeon® processor Scalable family, end customers can achieve up to 3.9 times higher virtualized workload throughput and support more virtual machines (VMs) ...
SAN JOSE, Calif. (PRWEB) May 04, 2017
Quanta Cloud Technology (QCT), a global leader in hyperscale cloud and hyperconverged infrastructure, today announced plans to offer in mid-2017 a series of servers equipped with the upcoming Intel® Xeon® processor Scalable family. QCT will be previewing these preliminary systems at Computex starting May 30, at ISC 2017 on June 19, and via sample solutions by request immediately.
***See end of news release for preview and request details.***
Performance, Efficiency and Flexibility Improvements
The Intel® Xeon® processor Scalable family will deliver increased performance and scalability compared with previous-generation Intel processor families. Thanks to Intel® AVX-512 extensions, the new processors can deliver an up to two times improvement in floating point operations per second per clock-cycle, as well as peak performance capability increases when compared to their AVX2 extension. This capability is especially valuable for high-performance computing applications, data analytics and security/cryptography workloads.
As most datacenters incorporate a form of virtualization, now is the right time to accelerate the move to modern server infrastructures. With QCT's new systems based on the Intel® Xeon® processor Scalable family, end customers can achieve up to 3.9 times higher virtualized workload throughput and support more virtual machines (VMs) compared to the 4-year-old servers that are representative of today's typical installed base.
QCT's new server systems will also support the Intel® Volume Management Device (Intel® VMD) capability, which provides a common, robust method of hot plug (i.e. hot swappable) and LED management for NVMe-based storage devices such as the recently announced Intel® Optane™ SSD DC P4800X and Intel® SSD DC P4500/P4600 series drives.
With optimized hardware and firmware, the QCT next-generation server platforms will sustain amazingly low power wattage at system idle. Equipped with state-of-the-art 80 PLUS Titanium power supply options, QCT's platforms will further reduce datacenter operation costs with the highest AC-to-DC conversion efficiency available. This combination of new technologies makes the transition to the Intel® Xeon® processor Scalable family an ideal choice to not only minimize operating expenses but also reduce energy consumption and carbon footprint.
QCT's new servers using the Intel® Xeon® processor Scalable family will provide flexible I/O options, including a variety of SAS mezzanine and Open Compute Platform compliant networking mezzanine options, so customers are no longer forced to pay for unnecessary LOM or RAID controllers. The products also implement the latest RESTful APIs, QCT System Manager, and Intel® Rack Scale Design parameters to simplify datacenter management and enhance datacenter security beyond traditional IPMI deployment. Maintenance is quick and easy, with screwless drive trays and PCIe slot designs that simplify daily life for datacenter operation professionals.
New QCT Products Featuring the Latest Intel Processor Family
The following QCT products—along with a series of additional products based on the Intel® Xeon® processor Scalable family including storage servers, a 4-socket server, high-density multi-node servers, and AI-acceleration solutions—will be among the world's first ready-to-ship solutions and are being previewed at Computex and ISC in preparation for launch in mid-2017.

D52B-1U — a highly scalable 1U server that can provide the maximum possible storage IOPS with innovative 12x SFF drive bays and up to five PCIe expansion slots for sufficient I/O throughput to deliver performance for the most demanding workloads.
D52BQ-2U — a full-featured server that supports more U.2 drives in comparison to its previous generation server. It also includes an embedded 24-port controller that reduces the need for extra RAID cards and SAS expanders.
T42S-2U — a proven design in a 2U4N form factor that provides the optimal performance density per rack. It includes pure SAS/SATA and U.2 tiered storage SKU options.
QCT Preview of Skylake at Computex and ISC
If you're interested in requesting a preview of these products, please contact us at http://qct.io/Contact-QCT. You can also visit QCT at the Computex event starting May 30 in Taipei, Taiwan, and at ISC 2017 in Frankfurt, Germany, on June 19 to see the full product portfolio. (The preview is in a Non-Disclosure Agreement Room and requests are subject to the signing of a Non-Disclosure Agreement with QCT.)
About Quanta Cloud Technology (QCT)
Quanta Cloud Technology (QCT) is a global datacenter solution provider. We combine the efficiency of hyperscale hardware with infrastructure software from a diversity of industry leaders to solve next-generation datacenter design and operation challenges. QCT serves cloud service providers, telecoms and enterprises running public, hybrid and private clouds.
Product lines include hyperconverged and software-defined datacenter solutions as well as servers, storage, switches and integrated racks with a diverse ecosystem of hardware component and software partners. QCT designs, manufactures, integrates and services cutting-edge offerings via its own global network. The parent of QCT is Quanta Computer, Inc., a Fortune Global 500 corporation. http://www.QCT.io.
Intel and Xeon are registered trademarks of Intel Corporation in the United States and other countries.
###