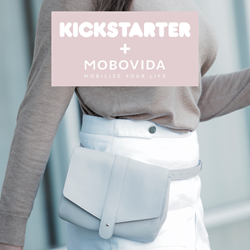 Fullerton, CA (PRWEB) May 04, 2017
This week, Mobovida launched a Kickstarter campaign for their new Bristol Belt Bags, created by a team of designers with experience working with some of the world's most high-end fashion brands. The belt bags combine modern style and convenience, catering to the woman who is always on the go.
The bags are made of premium pebble grain leather and come in three colors: black, camel and milk. Features include a magnetic snap closure, multiple card slots, a padded cell phone pocket, privacy zipper pocket, portable battery bank, key fob ring, headphone cable slot and crossbody functionality with an additional gold chain.
Mobovida has less than 30 days to reach their goal of $10,000. Early backers will receive a discount and additional gifts with their belt bag. For more information and a link to their Kickstarter campaign, visit http://www.mobovida.com.
About:
Through Mobovida's 14 years of experience with mobile accessories, the company knew there was a major disconnect from what big retailers were offering and the wants of real people everywhere. With customer feedback and frustrations of their own, they set out to develop a line of mobile and travel accessories where price, style, and function all aligned.