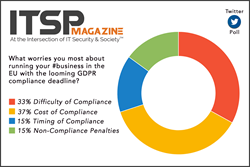 Organizations are scrambling to find the GRPR compliance help they need to properly manage this requirement for their business," says Sean Martin, CISSP, Editor in Chief, ITSPmagazine
LOS ANGELES, CA (PRWEB) May 04, 2017
ITSPmagazine (https://www.ITSPmagazine.com), the cybersecurity industry's boutique information security magazine focused on stories sitting squarely at the intersection of IT security and society, announced today a 3-part webinar series designed to discuss, educate and explore the topic of the General Data Protection Regulation (GDPR).
Since announcing ITSP.TV back in January, ITSPmagazine has successfully delivered and published over seven expert webinars, four live panels and twenty-two video interviews. Content released on the magazine's channel also includes live event coverage, including the RSA Conference in San Francisco where 3 panels were streamed live and recorded for playback.
Building on this success, the ITSPmagazine editorial team is now planning to deliver a new 3-part webinar series covering the timely and extremely relevant topic of GDPR, which is set to replace the data protection directive from 1995.
"With the May 2018 date looming for GDPR, organizations are scrambling to find the help they need to properly manage this requirement for their business," says Sean Martin, CISSP, co-founder and editor-in-chief at ITSPmagazine. "We are collaborating with experts from both the US and the EU to present this series to help organizations of all sizes understand, prepare and respond to the new regulatory requirements."
Details for part one of the series can be found at: https://itspmagazine.com/itsp-tv/how-to-operate-a-gdpr-compliant-business-in-the-eu
If your company is based in the United States and is also operating in the European Union (EU), there are things that your organization must learn with respect to GDPR. The new law, which goes into effect May 25, 2018, will have an impact on many businesses, even third-party vendors that aren't directly doing business in an EU country but whose business partner does. The panelists joining ITSPmagazine for this series are being hand selected as they have the experience and expertise necessary to help organizations prepare for what lies ahead.
The thought leadership discussions are designed to help organizations understand the following:

How to safely operate a business in the EU from outside the EU
What it takes to be compliant with the regulation
How the GDPR impacts small- and medium-sized businesses
Moderated by ITSPmagazine's editor-in-chief and 4-time CISSP Sean Martin, here are some of the topics that the experts will be exploring:

Managing cross-border data transfers
Dedicated data protection officers
Breach notification obligations
Data protection requirements
Penalties for violations
Vendor management
Code of conduct
"A current poll running on ITSPmagazine's Twitter account shows that most people are concerned with two things: the cost and difficulty of achieving GDPR compliance," says Marco Ciappelli, co-founder and creative director of ITSPmagazine. "It's clear that organizations are concerned about missing vital information when it comes to meeting the requirements associated with this regulation; we're thrilled to provide the platform through which our subscribers can learn from the experts that know this regulation best."
The current results of the Twitter poll can be found here: https://twitter.com/ITSPmagazine/status/858336208056754176
The schedule for the 3-part webinar series is as follows:
PART 1: HOW TO OPERATE A GDPR-COMPLIANT BUSINESS IN THE EU
Thursday, August 17, 2017
10:00AM PT
SAVE A SEAT
PART 2: RECOMMENDED STEPS TO REACH GDPR COMPLIANCE
Wednesday, August 30, 2017
10:00AM PT
SAVE A SEAT
PART 3: GDPR IMPACT ON SMALL- AND MEDIUM-SIZED BUSINESSES
Wednesday, September 13, 2017
10:00AM PT
SAVE A SEAT
For more information about the series and to register for part one, please visit https://itspmagazine.com/itsp-tv/how-to-operate-a-gdpr-compliant-business-in-the-eu. To skip the overview page and reserve a seat for Part 1 today, visit https://itspm.ag/gdpr1pr.
To view all of ITSPmagazine's expert webinars, visit: https://www.brighttalk.com/channel/15037/itspmagazine
Be sure to stay in touch with ITSPmagazine by subscribing to our newsletter.
About ITSPmagazine (https://www.ITSPmagazine.com)
Founded in 2015 by Sean Martin, CISSP, and Marco Ciappelli, ITSPmagazine is the cybersecurity industry's boutique InfoSec magazine and the go-to source for informative, educational and unfiltered content. Our select team of editors, journalists and industry professionals focus not just on technology and cybersecurity, but on the impact they have on life, humanity and society. @ITSPmagazine, an imsmartin publication, brings the human element to the latest in information security news because, after all, that's who's using it. We're right there at the intersection of IT security and society™ with you.