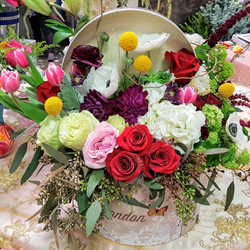 The #CFMMothersDay giveaway contest inspires holiday gift ideas and shows it's easy to deliver smiles to all the Mom's in one's life on any budget at CFM.
Downtown Los Angeles Flower District, California (PRWEB) May 04, 2017
California Flower Mall flower petalers unite this Mother's Day season – the highest grossing flower holiday of the year -- to show Mom's their love and appreciation while showcasing their team's floral design talent in the CFM Best Mom Ever Photo & Video Contest. "It's fast and easy to enter the contest once a day from any device for all ten days, there is no limit. Folks will get a daily sneak peek of the prizes and floral design artistry, quality and variety of Mother's Day flower arrangements, plants and fresh cut flower choices available here for every taste, style and budget," says Mark Chatoff owner and president of the 45,000 square foot flower market.
Mother's Day flower arrangement prizes valued at $50 - $80 will be awarded daily by a participating vendor. Two $300- $500 grand prize Mother's day flower arrangements will also be given away in the #CFMMothersDay contest. Any California resident over 18 is eligible to enter to win. Grand Prize Mother's Day flower arrangements are co-sponsored by CFM and Lavish Flowers & Events showroom 107 near the CFM 825 San Pedro Street entrance and by Mireya's Flowers showroom 121 near the CFM 824 San Julian Street entrance. Both floral designers will also award one daily Mother's Day flower arrangement valued at $50 - $80. Participating CFM flower vendors giving away daily Mother's Day prizes are: Andrew's Wholesale Flowers Showrooms 101 and 103; Growers Direct Showroom 102; Glamorous Flowers Showroom 104; Vinny's Wholesale Showroom 105; Royalty Flower Events Showrooms 106 and 108; El Poblano Flowers Showroom 110; Flamingos Events Showroom 115; Mireya's Flowers Showroom 121 and Choi Orchids Showroom 822. Chatoff advises contacting vendors directly with questions about flower availability, prices or Mother's Day pre-orders at http://californiaflowermall.com/floor-map-vendor-directory/.
"The National Retail Federation 2017 Mother's Day Spending Survey shows fresh flowers reign as one of America's favorite Mother's Day gifts - 69% expect to buy flowers for Moms this year. The #CFMMothersDay giveaway contest inspires holiday gift ideas and shows it's easy to deliver smiles to all the Mom's in one's life on any budget at CFM. We invite everyone to like or follow us on Facebook and Instagram to see the exciting new flower products and designs petalers will be revealing and follow contest winner announcements through Dia de Las Madres, May 10 and Mother's Day Sunday, May 14, 2017," he says.
About California Flower Mall
The California Flower Mall http://www.californiaflowermall.com, located at 825 San Pedro Street and 824 San Julian Street, is one of the largest DIY wholesale flower marts in Downtown LA's eight block Flower District trade community. CFM does not charge a fee or require a member badge to enter. Amenities include convenient onsite parking, an ATM, casual patio dining and tidy customer restrooms. LA's Flower District is the largest concentration of wholesale flower markets and flower businesses in the U.S. It is located in the 100 block LA Fashion District Business Improvement District.