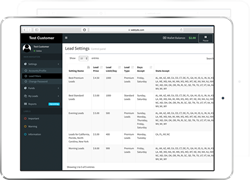 Plantation, FL (PRWEB) May 04, 2017
Weblyds.com provides a secure marketplace for buyers and sellers of health insurance leads. Updated in real time, the Weblyd technology provides a unique opportunity for insurance agencies and call center operators to collectively connect with multiple sellers in order to compare and bid on insurance leads. The sellers and publishers of these leads can register for FREE and gain instant access to new customers. Settings on the Weblyd marketplace website give full control to buyers in order to conduct multiple searches for leads by state, time, type, and more.
Pradeep Jena, CEO of Weblyds.com stated, "This powerful web based platform will revolutionize the insurance lead industry and benefit both buyers and sellers by coming together under one, secure platform to maximize their time and revenue." Weblyds.com will introduce the new line of products to call centers and insurance brokers, along with promoting the new web presence.
Please see more information via its website http://www.Weblyds.com or the Company's Facebook page at http://www.facebook.com/Weblyds.
Register today and access this powerful platform from your computer, tablet, or smart phone.
About Weblyds.com:
Weblyds.com (WLC) publishes and sells insurance leads and data that incorporate state-of-the-art technology. Weblyds.com has integrated applications that incorporate our proprietary web based technology and provide customized services to call centers and insurance brokers worldwide. Please visit the company's website at http://www.Weblyds.com or http://www.facebook.com/Weblyds.
For information, please contact:
Dore Scott Perler
VP Sales and Marketing
http://www.Weblyds.com
Telephone: (954) 232-5363
Dperler(at)Weblyds(dot)com