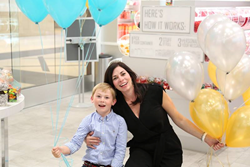 A mother is a teacher, a leader, a protector, and a disciplinarian all rolled into one. Mother's Day isn't just about indulging or treating, it is about showing appreciation for all that they do, said founder Lindsay Erickson
(PRWEB) May 04, 2017
As a veteran mother, entrepreneur and new mother of triplets, GetHappy Founder Lindsay Erickson knows exactly what moms want this Mother's Day.
Her Midwest gourmet confectionary company, GetHappy, has been serving both local and national consumers the world's most delicious handmade chocolates, a global collection of gummies, and gourmet caramel apples served alongside a special personalized message.
"GetHappy is about taking the time to let someone know that you care, and show the person who brought you into this world that you appreciate them this Mother's Day," said founder Lindsay Erickson. "My team at each of our seven GetHappy locations have been busy putting together innovative and exciting gift packages to show Mom just how much she's cared for.
Erickson's love of creating gift packages for others and sending unexpected greeting cards to show that you care was the impetus for launching GetHappy at Mayfair Mall in September of 2011.
Since launch, GetHappy has grown to seven locations in Wisconsin and Illinois as well as successfully breaking into the e-commerce market, allowing nationwide shipping.
Between her brand's success, an eight-year-old son, and new triplets, Erickson is determined to pass the joy onto others this Mother's Day.
The GetHappy Special Gift Basket is designed to make a mother's mouth water. It features a delectable, handcrafted caramel apple and an assortment of the finest Belgian chocolates, each carefully nestled in a gourmet chocolate container and tied together with their beautiful, signature blue ribbon.
For a special thank you to the chocolate lover, GetHappy has created a decadent Belgian Box Tower. Weighing in at a pound and a half, this box features an assortment of all her favorite chocolate truffles. As a bonus, they're offering special Mother's Day pricing of only $40.
As always, all their creations can be personalized completely free of charge!
 
"A mother is a teacher, a leader, a protector, and a disciplinarian all rolled into one," said Erickson. "Mother's Day isn't just about indulging or treating, it is about showing appreciation for all that they do."
About Us
Lindsay Erickson launched GetHappy to brighten up other peoples' lives using sweet treats from around the world. Since its launch at the Mayfair Mall in September of 2011, GetHappy has grown to seven locations in Southeast Wisconsin and Illinois, and now has a growing online retail business.
For samples or additional information, please visit http://www.gethappyusa.com or contact brooke(at)veteranpr(dot)com.