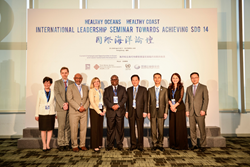 (PRWEB) May 06, 2017
The Hong Kong Polytechnic University (PolyU) co-hosted a United Nations-supported international conference recently on the challenges and opportunities of ocean and coastal sustainable development under the United Nations Sustainable Development Goals (UNSDG) Agenda.
Held on the campus of PolyU, the "Healthy Oceans – Healthy Coast" International Leadership Conference on 25-26 April 2017 was attended by around forty experts from the United Nations and related government and non-government representatives from overseas and the Chinese mainland. The discussion focused on UNSDG which provides guidelines and targets for all countries to adopt and achieve in accordance with their own priorities and the environmental challenges of the world at large.
The Conference was supported by the United Nations Conference on Trade and Development (UNCTAD), an authoritative knowledge-based institution, to help shape current policy debates and development strategies, with a particular focus on ensuring that domestic policies and international action are mutually supportive in bringing about sustainable development. Other lead organisers were the International Ocean Institute and Shenzhen World Health Foundation.
Faculty and graduate students from PolyU's Department of Logistics and Maritime Studies and Research Institute for Sustainable Urban Development shared their research work on green shipping and high-density coastal development.
PolyU's Vice President (Student and Global Affairs), Professor Angelina Yuen, said, "PolyU has always been committed to the sustainable development of the community. We are honoured to have taken part in and contributed ideas to the global discussion on issues relating to the oceans. With concerted efforts, I am confident that together we can make progress on this important global challenge."
The conference concluded with the drafting of a summary document which will be shared at the upcoming United Nations Oceans Conference co-hosted by the Governments of Fiji and Sweden at the UN Headquarters in New York on 5-9 June 2017 to support the implementation of Sustainable Development Goal 14: Conserve and sustainably use the oceans, seas and marine resources for sustainable development.
*****
Media enquiries:
Mr David Joiner
Director of International Affairs Office
Tel: (852) 2766 4393
Email: david.joiner(at)polyu.edu(dot)hk