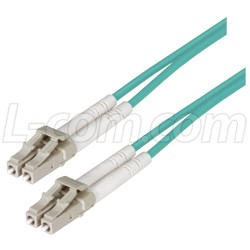 "In order to better serve our customers and their requests for these cables as custom configurations, we have added them as regular stock parts that can be ordered anytime from our website," said Dustin Guttadauro, Product Manager
NORTH ANDOVER, Mass. (PRWEB) May 09, 2017
L-com Global Connectivity, a preferred manufacturer of wired and wireless connectivity products, announced today that it has launched a new series of multimode and single-mode fiber cable assemblies to address high-speed voice, video and data networking applications.
These three new cable lines are an extension of L-com's wide breadth of fiber cable options. The SFODZLCCL-series are LSZH, duplex LC, single-mode cables. The FODZLCCL-OM2-series features LSZH jackets, duplex LC connectors, and supports multimode applications. The FODLCCL-OM3-series are laser optimized OM3, OFNR, duplex LC, fiber cables designed for use with Vertical Cavity Surface Emitting Lasers (VCSEL's).
"In order to better serve our customers and their requests for these cables as custom configurations, we have added them as regular stock parts that can be ordered anytime from our website. This furthers our efforts to fulfill the urgent needs of our customers by offering a complete catalog of fiber cables with all connector and jacket combinations available off-the-shelf," said Dustin Guttadauro, Product Manager.
These new fiber cable assemblies are in-stock and ready to ship.
For more information about this release, please contact:
Peter McNeil
L-com Global Connectivity
17792 Fitch
Irvine, CA
978-682-6936 x1174
About L-com Global Connectivity:
L-com Global Connectivity, a leading manufacturer of wired and wireless connectivity products, offers a wide range of solutions and unrivaled customer service for the electronics and data communications industries. The company's product portfolio includes cable assemblies, connectors, adapters, antennas, enclosures, surge protectors and more. L-com is headquartered in North Andover, Mass., is ISO 9001: 2008 certified and many of its products are UL® recognized. L-com is an Infinite Electronics company.