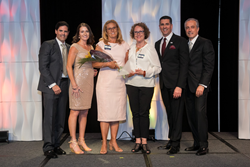 She's a hero to her students and an inspiration to everyone who has had the privilege of working with her.
Montpelier, VT (PRWEB) May 04, 2017
National Life Group announced today that Ana Rubio, physical education teacher at Earlington Heights Elementary School in Brownsville, Florida, has been selected as the Grand Prize Winner for the national 2016-2017 LifeChanger of the Year award.
LifeChanger of the Year is an annual program that recognizes and rewards outstanding K-12 educators and school district employees who have demonstrated a proven ability to make a beneficial difference in the lives of students.
"Ana is an extraordinary example of what it means to be a LifeChanger," said Mehran Assadi, President and CEO of National Life Group. "She has shown a relentless commitment to the betterment of her students, and to serving her community in Miami-Dade County. We have received comments from hundreds of people whose lives she has touched, all testifying to her kindness, patience, grace, passion, and her commitment to changing children's lives."
Rubio was selected for the Grand Prize out of more than 720 teachers, administrators and school district employees from all 50 states and the District of Columbia. She was chosen for her inspiring leadership in Miami-Dade County and her student advocacy work, which span the course of a 16-year career.
"Ana is a rock star. Her incredible work at this school and in this community has had a tremendous impact on countless young lives," said Jackson Nicholas, principal of Earlington Heights Elementary School. "She's a hero to her students and an inspiration to everyone who has had the privilege of working with her."
A single mother of three sons, Rubio is the founder of Streamline Miami, a nonprofit program dedicated to helping underprivileged students stay healthy and active after school. The organization began as a local baseball program that helped six alumni receive full college scholarships. Its success allowed Rubio to expand the reach of the organization to provide underprivileged students with local cultural experiences, such as attending South Florida art museums and music festivals. Streamline Miami also began raising money from the local community for more books and teaching instruments inside the classroom.
"Ms. Rubio sees the good in us, and she tries to give us the best possible experience in PE," said Kimberly Sequiera, a student. "She doesn't let the bad moments keep her from teaching and caring for us. She truly loves her students."
At school, Rubio is an inspiration to her students and colleagues. Students have stated that she is the kind of teacher who makes them look forward to school, and her colleagues report being amazed at the positive impact she has on the lives of students.
"I have worked with Ms. Rubio for many years, and I am so happy to witness the positive change she has brought to the Earlington Heights Elementary School," said Silva Kaneesha Dockens, a colleague. "She is committed to giving our students other options. By exposing our students to culture, sports and travel, she helps them recognize that they can achieve more. Ms. Rubio knows they have better choices for their lives if they commit to their education now. She does great work."
As the National Grand Prize Winner, Rubio receives a $10,000 cash award, which is split between a $5,000 individual award and a matching $5,000 donation to Earlington Heights Elementary School. National Life Group will also be helping to fund a trip to Washington DC for ten students through Streamline Miami.
In addition to Rubio, four other educators from across the country were recognized as 2016-17 LifeChanger of the Year Grand Prize finalists. Each finalist received a $2,500 cash reward with a matching $2,500 donation made to their schools. All finalists were recognized at a national awards ceremony on Saturday, April 29th, 2017 in Naples, FL.
Amy Lazarowicz, Science Teacher
Neinas Dual Language Learning Academy
Detroit, MI
Casey Bethel - Science Teacher
New Manchester High School
Douglasville, GA
Jay Porter - Vice Principal/Title 1 Coordinator
Red Mountain Elementary School
Ivins, UT
Martha Infante - World History Teacher
Los Angeles Academy Middle School
Los Angeles, CA
Eleven additional awards were given out to other LifeChanger of the Year winners from other states across the country, including Florida, California, Mississippi, Texas, Oklahoma, Delaware and Ohio.
LifeChanger of the Year winners are selected by a committee comprised of past winners and education professionals using the following criteria:

Contributing positively to the school's culture and providing a nurturing atmosphere
Being involved in leadership within their school and/or community
Demonstrating a proven record of excellent performance at the professional level
Adherence to high moral and ethical standards.
For a complete listing of this year's LifeChanger of the Year winners, visit: https://www.lifechangeroftheyear.com/20162017-winners
To view Ana Rubio's nominee profile, visit: https://www.lifechangeroftheyear.com/2016-17/ana-rubio
To learn more about Streamline Miami, visit: http://www.streamlinemiami.org/
###
National Life Group® is a trade name of National Life Insurance Company, Montpelier, VT, Life Insurance Company of the Southwest (LSW), Addison, TX and their affiliates. Each company of National Life Group is solely responsible for its own financial condition and contractual obligations. LSW is not an authorized insurer in New York and does not conduct insurance business in New York.
In Texas, due to regulatory concerns, National Life Group will donate similar items to the winner or a nonprofit group of NLGroup's choice that supports the winner's school.