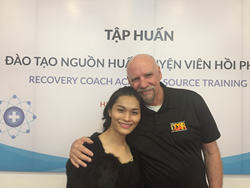 This has the potential to transform their entire system of care.
Hanoi, Vietnam (PRWEB) May 10, 2017
The Connecticut Community for Addiction Recovery (CCAR) is a non-profit organization based out of Connecticut that puts a positive face on recovery and provides recovery support services. The CCAR Recovery Coach Academy©, a 30-hour course recognized as the leading curriculum for recovery coaches has been held more than 1,400 times in 30 states. The course focuses on four key concepts: active listening, asking good questions, discovering and managing your own stuff, and treating people as resources. In March 2017, Phil Valentine, CCAR Executive Director, took the opportunity to carry the CCAR Recovery Coach Academy© internationally.
Valentine, along with Cortney Lovell of WRise Consulting, Inc., worked with Supporting Community Development Initiatives, a Vietnam based organization. John Hamilton, CEO of Recovery Network of Programs and former President of CCAR's Board, had previously taken multiple trips to Vietnam in order to assist in the building of a treatment system in the country. When asked about what made him think of CCAR, Hamilton said: "the best strategy for Vietnam is to develop people with lived experience to establish a recovery based work force. Phil Valentine and CCAR's Recovery Coach Academy was clearly the best decision for the task. Phil was my first choice to train the right people to establish a recovery community in Vietnam." Soon after Hamilton observed the need, he contacted Valentine.
Stacy Charpentier, Director of CART, worked with Valentine and Lovell to pare down the RCA curriculum to a three-day course geared towards the social situation in Vietnam. "Knowing there would never be enough time to translate our materials or present the RCA curriculum word for word in only 5 days time, we spent a great deal of time prior to this training asking our Vietnam partners what they hoped to accomplish." This collaborative effort translated well into the experience as a whole; working together to pilot a program that spans cultural differences and breaks down social barriers.
Their hard work paid off. Despite challenges such as communication issues and social status disparities, the CCAR Recovery Coach Academy© was a resounding success. Working through these issues taught both parties valuable lessons that will reinforce the standards of recovery coaching in the country. "By modeling the skills of a recovery coach, we were able to deliver a training that not only helped Vietnam understand the role of a recovery coach, but how to implement this highly needed service in their communities," Charpentier said.
When asked what CCAR accomplished in Hanoi, Valentine said, "First and foremost we were able to present the idea that recovery is progressive. We worked with our Vietnamese counterparts to reinforce the idea that recovery is much more than stopping drug use." Although harsh discrimination still remains, this first group of recovery coaches developed the tools and skills to implement lasting change. "I believe they were able to grasp the hope of recovery and what recovery truly means. This has the potential to transform their entire system of care."
About CCAR:
Since 1998 the Connecticut Community for Addiction Recovery (CCAR) has organized the recovery community (people in recovery, family members, friends and allies) to put a face on recovery and to provide recovery support services to help sustain recovery. By promoting recovery from alcohol and other drug addiction through advocacy, education and service, CCAR strives to end discrimination surrounding addiction and recovery, open new doors and remove barriers to recovery, maintain and sustain recovery regardless of the pathway, all the while ensuring that all people in recovery, and people seeking recovery, are treated with dignity and respect. CCAR envisions a world where the power, hope and healing of recovery from alcohol and other drug addiction is thoroughly understood and embraced.