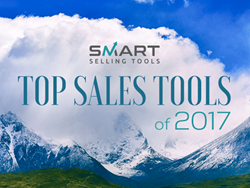 Plano, TX (PRWEB) May 04, 2017
VanillaSoft, the industry's leading software for Sales by Phone, is honored to announce its inclusion in the Top Sales Tools of 2017. This is the fifth time that Smart Selling Tools included VanillaSoft in their annual list.
Smart Selling Tools looked at six different categories and included a total of 44 software companies. VanillaSoft was chosen for Sales Prospecting and Communication, highlighting increased call productivity, a shortened lead response time, and an improvement in follow-up persistence with the software.
VanillaSoft's feature set of auto-dialing and one-click calling work together to increase the productivity of salespeople. The queue-based routing ensures lead response time is fast. The executives at VanillaSoft are proud to see the product amongst this distinct list of sales tools.
About VanillaSoft
VanillaSoft is a Lead Management Software and CRM solution for phone sales. Based in Plano, TX, they offer more than the traditional CRM. Founded in 2003, VanillaSoft provides solutions to help inside sales teams be more productive and successful. VanillaSoft's best-in-class features include progressive dialing, queue-based lead routing, call recording, logical branch scripting, and VoIP, to name a few.
Typical VanillaSoft users see a 30% to 100% growth in productivity. Some of the industries served by VanillaSoft are Banking & Finance, Education, Insurance, Manufacturing & Product Sales, Merchant Services, Nonprofit, and Telemarketing. VanillaSoft's revolutionary approach to lead management creates client successes.