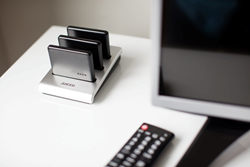 The HBO Show 'Billions' picked JUICED as one of the 10 most promising inventions, which helped us get the word out about the product to reach our goal.
Myrtle Beach, S.C. (PRWEB) May 04, 2017
Revolutionizing the way smart phones are charged, the new Wireless Group Charging Station 'JUICED' has completed a successful crowdfunding campaign on Kickstarter – raising more than $30,000 from nearly 200 backers.
"We received a $5,000 boost during the campaign when the HBO Show 'Billions' picked JUICED as one of the 10 most promising inventions, which helped us get the word out about the product to reach our goal," said JUICED creator Thomas J. Martel, Jr., a student at the University of South Carolina. "We really want to thank all the crowdfunding backers who made JUICED a success."
One JUICED wireless group charging station solves the problems of mobility and group charging, offering a quick and easy 50 percent boost in power for multiple users. Each JUICED battery pack can fit in a pocket or small compartment, giving users connectivity wherever life takes them. The base JUICED unit also doubles as a direct phone dock for a phone.
"JUICED is really more than a battery pack…it's a wireless group changer," Martel said. "JUICED can charge up to six mobile devices at once – three from the batteries, along with three more from each slot where a phone can be inserted. JUICED provides ultimate 'freedom' to all users of electronic devices. Rather than the decade-old charging cables that fray and wear out, JUICED is the first in a new field of charging technology."
JUICED features include:

An extended charging tip that services up to three devices without a single wire
A lightweight and easily portable design
The ability to work with both iPhone and Android devices
Compatibility with any case
The ability to be re-charged with either a charging station or micro USB
A removable plug for portability
With its initial crowdfunding campaign complete, Martel says production is now under way and backers will be receiving their JUICED units in July. Meanwhile, people can continue to order JUICED through the JUICED Facebook Page. When the first samples arrive off the production line, Martel plans to reach out to reporters and bloggers with samples and continue crowdfunding to reach new backers.
"Since smartphone cords, wires, ugly charging cases and bulky battery packs are annoying and difficult to keep track of, we believe once reviewers physically try JUICED for themselves they'll see our product offers all owners of mobile devices the greatest amount of portability, simplicity and freedom," he said.
For more information and to order JUICED, visit the Juicedcharging Page on Facebook.
About JUICED
Thomas J. Martel, Jr. founded JUICED in 2016, with a company focus to become a leader in the development of mobile group-charging batteries with a focus on the mobile needs of the millennial generation. Martel teamed up with business professors and other corporate mentors in launching the company – with the future goal of creating other battery and phone accessories that will be used by restaurants and eventually sold on the retail market. For more information, visit Juiced on Facebook.