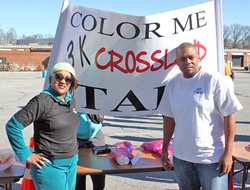 Suitland, MD (PRWEB) May 04, 2017
Andrews Federal Credit Union recently sponsored the Color Me Crossland Fun Run/Walk. The event, organized by the Class of 2017 in partnership with the Crossland PTA, seeks to shift from discussions about non-violence to positive actions, and invite students to become "ambassadors of peace."
Student leaders, in an attempt to promote a non-violent school year, birthed the idea of the Color Me Crossland Fun Run/Walk. The event was slated to occur in the fall of 2016, but was pushed back to the spring of this year. During that time, a student was stabbed on school grounds, after a verbal argument turned violent with a former student, an adult male. Weary of the inordinate amount of coverage negative publicity received in the media, students wanted to raise awareness about the good that many of them are doing in the classroom and in the community through public service.
"The students at Crossland High School are a wonderful example of what's great about this community," said Andrews Federal's Tim Blue, Allentown Road Branch Manager. "Their commitment to improving the world around them is exemplified through initiatives such as this. We are proud to lend our support to their cause."
Proceeds from the event will benefit the Crossland High School Class of 2017 Legacy Scholarship.
About Andrews Federal Credit Union
Andrews Federal Credit Union was founded in 1948 to serve the needs of military and civilian personnel by providing a vast array of financial products and services. With over $1.5 billion in assets, Andrews Federal has grown to serve more than 120,000 members in the District of Columbia, Joint Base Andrews (MD), Springfield, Virginia (VA), Joint Base McGuire-Dix-Lakehurst (NJ), and military installations in central Germany, Belgium, and the Netherlands. In addition, the Credit Union serves as a financial partner with many select employee groups in Maryland, the District of Columbia, Virginia and New Jersey.
To learn more about Andrews Federal Credit Union and its community involvement, or to become a member, call 800.487.5500 or visit http://www.andrewsfcu.org.