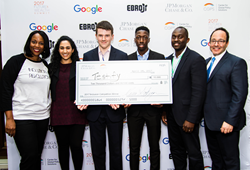 "What we are doing with Testify is building applications that we wished existed when we were starting out in middle school and high school." -- Femi Adebogun, Testify Software Solutions CEO
Washington, DC (PRWEB) May 04, 2017
The Center for Global Policy Solutions' 2017 Future of Wealth Summit awarded Baltimore County, MD, teenagers top honors at the event's Inclusion Revolution Innovation Competition.
Student-run Testify Software Solutions won the JPMorgan Chase & Co.-sponsored competition for its Mindmap app, a sophisticated game application that allows teachers to gain new insights into their K-12 students' learning styles.
The EdTech startup was founded by a group of high school seniors, including Femi Adebogun and Zack Tasker, who accepted the $10,000 prize. Testify will use the money to offer Mindmap free of charge to 5,000 students in Baltimore City Schools. More than 40,000 students in several East Coast school districts already use Mindmap.
"What we are doing with Testify is building applications that we wished existed when we were starting out in middle school and high school," Adebogun said. "These were applications that really would have benefited us as students. Now, we want to help the millions of kids coming behind us."
The competition capped-off the three-day Summit, which convened a wide range of leaders to discuss "Technology, Inclusion, and Social Change." CGPS sought tech-based solutions to help traditionally marginalized communities. It received more than 100 proposals from around the world. Four finalists presented their plans to a panel of judges at the Summit.
"The Testify team embodies the reason we started this competition," says CGPS President and CEO Maya Rockeymoore. "Not only did we want to generate discussion about the need for more diversity in the tech sector, but also to help the next generation to reach their full potential and prosper."
"It was a pleasure to experience firsthand the innovative thinking coming from all the presenting finalists at the Inclusion Revolution Competition," said Tom Regnante, Commercial Bank Maryland Market Executive, JPMorgan Chase. "It's a tremendous sign for our future business and civic leaders that these two Baltimore teenagers had the ambition to develop Mindmap and improve their every day school environment. Thanks to the Future of Wealth Summit, they now have the resources to make the application available to more students."
In addition to Testify, the judges—Melissa Bradley of Sidecar Social Finance, May Samali of the Urban Innovation Fund, Tom Regnante of JPMorgan Chase, Angel Rich, CEO of the Wealth Factory, Inc. and the 2016 Financial Inclusion Competition winner, and Jessica Norwood of The Runway Project—also heard presentations from Pasadena-based CodeSpark Academy, Olé Education Fund of New Mexico, and Washington, D.C.-based Nafasi, Inc.
"At the end of day, the future of wealth is about Zack and me. It's about my little brother," Adebogun said. "I am glad that at least somebody is thinking about us because a lot of times, we are forgotten."
Founded on the principle that a more inclusive nation is a stronger, more prosperous one, the Center for Global Policy Solutions (CGPS) is a 501(c)(3) that equips businesses and organizations with the tools to effect change, driving society toward inclusion. Drawing on our unique blend of policy and advocacy expertise, CGPS develops strategies, research, programs, policies, and communications that address disparities in health, education, and economic security by race/ethnicity, place, gender, and age.