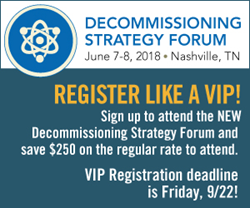 Rockville, MD (PRWEB) May 11, 2017
With 18 nuclear reactors undergoing decommissioning and several others announcing closures dates in the past year, the American market for decommissioning work continues to expand. ExchangeMonitor has announced the launch of the 2018 Decommissioning Strategy Forum, bringing together strategic leaders from government and industry to discuss the macro forces in global energy markets that drive the trends in decommissioning as well as insights into how the major contractors and teams are expected to compete for this business going forward.
The Decommissioning Strategy Forum will be held June 7-8 2018 at the Gaylord Opryland in Nashville, TN. Top executives from utilities, nuclear plants, the NRC, service providers, contractors and more will gather for high-level discussions on topics such as: key US and international decommissioning projects currently underway, new and emerging business models for decommissioning industry partnering, important developments in decommissioning packaging and storage, critical rule-making developments on important regulatory issues surrounding nuclear decommissioning and dynamic discussion related to used nuclear fuel transportation and interim storage, including the potential use of Yucca Mountain.
"In speaking with influential leaders from business and industry, it was clear that a conference focusing on the intricacies of decommissioning at sites worldwide was sorely lacking," stated Kristy Keller, Brand Director for the inaugural conference. "We are excited to create an intimate forum where we can bring together the high-level stake holders in this industry to discuss best practices, challenges and opportunities."
"It's hard for me to tell you just how excited I am to help announce the first annual Decommissioning Strategy Forum," said Nancy Berlin, Program Director, ExchangeMonitor Forums. "It's the deep commitment to the needs of the industry that has made this Forum so vital: a place where policy melds with industry, where information helps business decisions. The advisory committee continues to help to push this mission forward," Berlin said.
Early bird and government rates are available. For sponsorship information, contact David Brumbach at dbrumbach(at)exchangemonitor(dot)com or 301-354-1774.
The 2018 Decommissioning Strategy Forum is produced by the ExchangeMonitor, a division of Access Intelligence. More information can be found at: http://www.decommissioningstrategy.com/
About Access Intelligence
Access Intelligence delivers trusted, timely and deep information that empowers our customers and advances their business. We are a leading worldwide information and marketing company that provides unparalleled business intelligence and integrated marketing solutions in nearly a dozen global market sectors (such as PR, Marketing, Energy, Aviation, Satellite, Healthcare and Media). With a customer-centric culture dedicated to editorial excellence and marketing integrity, we serve business professionals worldwide with a portfolio of products, including events, e-letters, data and digital products, e-learning, magazines, and e-media solutions.