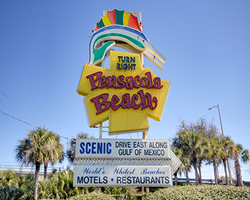 The natural beauty here leaves you speechless.
Pensacola Beach, FL (PRWEB) May 04, 2017
Southern Rentals & Real Estate wasn't surprised when Pensacola Beach was listed in the top five destinations in the world by TripAdvisor. Thanks to its white sand beaches, thriving local businesses, and military history, interest in the area has increased seven-fold in recent years. In turn, Southern Rentals & Real Estate's vacation rentals in Pensacola Beach have increased by 600 percent. This Memorial Day, Southern invites families from across the United States to experience the all-American vacation in Pensacola Beach.
Offering beachfront homes and condos in Pensacola Beach, as well as pet friendly rentals, Southern is honored to help guests make the most of their stay. Properties are filling up quickly, but daily and weekly stays are still available at homes including Lazy Urchin Seaclusion, The Blue Mermaid, and The Sand Dollar. For a condo right on the Gulf, Emerald Isle features two and three bedroom condos that sleep up to ten guests.
Visitors know they have arrived at Pensacola Beach when the iconic beach-ball water tower comes into view. Suspended in a mid-air toss, this landmark tower signifies the sugar white sand and emerald water of the Gulf are mere steps away.
"Pensacola is home to some of the most beautiful beaches you'll find anywhere," Southern Rentals & Real Estate General Manager Richard Lamar said. "I'm thrilled Pensacola Beach has become such a prized destination. The natural beauty here leaves you speechless."
In addition to its nationally recognized shoreline, the area is steeped in history. The first multi-year settlement in the United States, Pensacola was established six years before St. Augustine. Pensacola's past still stands at Fort Barrancas and Fort Pickens, both located on the Gulf Islands National Seashore. The famous Apache medicine man, Geronimo, was imprisoned at the latter, and visitors can now tour the grounds and descend into a labyrinth of winding cells.
For a skyward view of Pensacola's military legacy, turn to the National Naval Aviation Museum. Here, more than 150 rare and restored aircrafts are on display. Pensacola is home to the Blue Angels—an elite flight demonstration squadron that is the second oldest flying aerobatic team in the world. Catch a glimpse of the Blue Angels' practicing on Tuesday, May 30, and Wednesday, May 31 from the museum. Practice takes place at 11:30 a.m., is free and open to the public, and pilots often stop by to sign autographs.
That evening, go from the Blue Angels to the Blue Wahoos, Pensacola's Minor League Baseball team. The Wahoos, an affiliate of the Cincinnati Reds, take the field Tuesday and Wednesday night against the Jacksonville Jumbo Shrimp—an affiliate of the Miami Marlins. The Wahoos' winning percentage ranks at .600 in the Southern League Standings and they're seeded two spots above Jacksonville.
Another can't-miss event is Tuesday night's Bands on the Beach. From 7-9 p.m. at the Gulfside Pavilion, grab a chair and a picnic basket, and let the rhythm of the band—and the waves—prove the perfect soundtrack for your vacation.
From the beach to baseball, bands to Blue Angels, visitors will experience an irresistible slice of Americana this Memorial Day. Guests can book their Pensacola Beach vacation at SouthernResorts.com.
Established in 1995, Southern Rentals and Real Estate is one of the most sought-after providers of vacation rentals in Northwest Florida and Coastal Alabama. Locally owned and operated by two sets of brothers, Brad and Mike Shoults and Kevin and Kerry Veach, and Susan Carleton, Southern represents nearly 1,400 vacation rentals, 1,000 long term rentals, countless real estate opportunities and more than 40 associations along the Gulf Coast. The Southern family of companies includes Southern Vacation Rentals, Southern Residential Leasing, Southern Real Estate Sales, RE/MAX Southern, and Southern Association Management. For more information, visit GoSouthern.com.