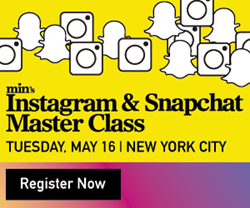 New York, NY (PRWEB) May 05, 2017
On Tuesday, May 16 at the Yale Club in New York City, min will hold an Instagram & Snapchat Master Class with insights curated for publishers, agencies, and media brands. The educational workshop will provide attendees with up-to-date strategies and best practices to succeed on two of the fastest rising social media platforms—Instagram and Snapchat.
Expert speakers include:
-Nora Barak, Engagement Editor, New York Media
-MaryAnn Barone, Social Media Editor, Health.com
-Elizabeth Baugh, Social Media Manager, ESPN
-Kristen Maxwell Cooper, Executive Editor (Digital), The Knot
-Kevin Driscoll, Social Media Director, Sports Illustrated
-Dan Ghosh-Roy, SVP, Audience Development, Complex
-David Grant, President, POPSUGAR Studios
-Sarah Halliday, Managing Editor, Snapchat, Refinery29
-Mallory Johns, Engagement Editor, Popular Science
-Liat Kornowski, Director of Social Strategy & Innovation, Refinery29
-Amanda Lucci, Senior Social Media Editor, Women's Health
-Ashley Mayo, Brand Editor, Golf Digest
Attendees will also hear from Jessica Liu of Forrester Research during a moderated lunchtime presentation. A Senior Analyst at Forrester Research, Liu focuses on serving B2C marketing professionals with a special emphasis on social marketing.
During the last session of the Master Class, attendees will gather in small groups to discuss challenges, opportunities, and strategies amongst each other. This "peer-to-peer" learning environment fosters networking and problem-solving.
For questions about the Master Class or registration rates, please contact Zoe Silverman at zsilverman(at)accessintel(dot)com.
To inquire about sponsorship opportunities, please contact Tania Babiuk at tbabiuk(at)accessintel(dot)com.
About min:
min is the industry's trusted source on the consumer and b2b magazine business, reaching thousands of media executives through print, online and in-person events. For more than 60 years, min has been serving the magazine and media community with unparalleled coverage of this ever-changing industry. For more information, visit http://www.minonline.com.