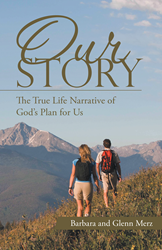 MT. JULIET, Tenn. (PRWEB) May 08, 2017
Barbara and Glenn Merz share a human-interest story about illness, building deep connections with others, and living life through the guidance of God, in their book "Our Story: The True Life Narrative of God's Plan for Us."
This book highlights two special individuals: Vernon Rosser of Nashville, Tennessee, and Joyce Merz, who lived about seventy-five miles away in Tullahoma, Tennessee. Neither one knew the other; however, both had contracted an incurable lung disease known as idiopathic pulmonary fibrosis (IPF), a viral infection of the lungs without any known cause or cure.
"We felt that we had a message to present to the public about God's plan for our lives," said the Merz's. "As a result, we wanted to share this story about two couples from two different walks of life with different family and professional backgrounds, who found out that what you dream and plan may not always turn out the way you expected."
Another theme in the book is the importance of organ donation. By sharing a true story about the lives that are saved through the generosity of others, the Merz's wish to raise awareness and acceptance of organ donation while encouraging more people to register.
"Our Story: The True Life Narrative of God's Plan for Us" is a book on the life cycle and the connections all humans have with each other, even when they are not readily apparent.
"Our Story: The True Life Narrative of God's Plan for Us"
By Barbara and Glenn Merz
ISBN: 978-1-51277-291-3 (hardcover); 978-1-51277-290-6 (softcover);
978-1-51277-289-0 (eBook)
Available on Amazon, Barnes & Noble, and WestBow Press
About the authors
Barbara and Glenn Merz are both retired and live in a suburb of Nashville, Tennessee. They became friends many years ago when their first spouses were diagnosed with a terminally illness. They decided to write this book to illustrate the importance of organ transplant combined with faith in God to guide people's lives. Since there are young men and woman studying to become doctors to help find solutions to today's medical problems, Barbara and Glenn are donating all proceeds of this book to provide scholarships to help them through their MD/PHD studies at Vanderbilt University.
###
Review Copies & Interview Requests:
LAVIDGE – Phoenix
Bryan Beach
480-998-2600 x 510
bbeach(at)lavidge.com
General Inquiries:
LAVIDGE – Phoenix
Kalin Batts
480-998-2600 x 524
kbatts(at)lavidge.com