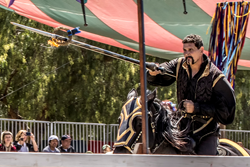 Irwindale, CA (PRWEB) May 04, 2017
With a fantastic four weekends already celebrated, the adventure has just begun. There are three special event weekends quickly approaching and the excitement is incredible. Queen Elizabeth herself is eager to bring on the merriment.
May 6 & 7
Time Traveler Weekend
All guests are invited to dress up in their finest time-traveling attire. No matter which century you portray, we're looking forward to celebrating a leap back (or forward) in time! It is, after all, a big ball of wibbly wobbly timey wimey… stuff. There will be a Costume Contest on both Saturday and Sunday with a chance to win tickets to return to the Renaissance Pleasure Faire during the 2017 season.
Saturday's Contest: Put the "punk" in Steampunk Costuming; Sunday's Contest: Epic Accessories
May 13 & 14
RennCon™ Weekend – New!
Trying to decide whether to hit the faire or the con this weekend? Now, brand new for the 55th anniversary, a choice is no longer necessary Visit on RennCon™ Weekend, for the first ever celebration of cosplay in all its forms. Attend a panel, take in the scenery, and enjoy some very special surprises! Whether inspiration is drawn from the sci-fi scene, anime, comics, television, fairy tales, or anywhere else… guests are invited to mingle with our 16th century townsfolk in the biggest costume party in L.A.
Steam Powered Giraffe Performance (Saturday May 13th, 6 p.m. ONLY)
Steam Powered Giraffe, the singing musical automatons, are proud to announce their appearance at the Renaissance Pleasure Faire! This quirky act combines comedic sketches, improvised android banter, and original music fused with multimedia visuals, billowing steam effects, and robot pantomime. The robots perform Saturday, May 13, 2017 at 6pm during RennCon™Weekend. More than just a band, Steam Powered Giraffe is an experience that must be seen and heard by the entire family.
May 20 & 21
Closing Weekend: The celebration of the Renaissance Pleasure Faire's final weekend of the 55th Season. Closing day traditions will be carried on with Closing Day Grand Ring Out Parade. (Sunday, May 21 only.)
Every Saturday and Sunday for the next three weekends:
THE TRAVELS OF PETER HAN ARTIST ADVENTURER
Join local artist Peter Han for hands-on demonstrations to capture the beauty of our magical world. Everyone is welcome in this fantastic classroom. Color and draw to one's heart's content!
Entertainment: The thirteen stages of nonstop entertainment come to life with continuous performances from 10am until 7pm every day! The 2017 entertainment lineup features a wide variety of acts, from jousting to aerial silk dancers, from jugglers to musicians, from stilt walkers to magicians. There is something for everyone.
Marketplace: The variety of over 125 high caliber artisans in the village marketplace is sure to appeal to everyone. Nowhere else can guests find the combinations of artists who will demonstrate their skill at blowing glass or forging iron, create a perfectly authentic article of renaissance clothing, or fashion a one of a kind piece out of exotic leathers. Whether you fancy delicately formed gold jewelry or prefer to sport a manly drinking horn about your neck, there are crafts to outfit yourself and your home.
Food & Drynke
The Renaissance Pleasure Faire is proud to present some of the finest festival food. Boasting local and internationally trained chefs, twenty-three food vendors offer an array of foods from fish and chips and sausages to salads and sorbets. Vegetarian and Vegan entrees and desserts are available. Our Pub Crawl is offered twice each day. On the Pub Crawl journey, guests will visit five village pubs for a time to tell jokes, make toasts and play games while enjoying the company of Deptford's many characters.
Tickets for The Renaissance Pleasure Faire are $29.95 for adults and $15 for children aged 5-12. Children 4 and under are always free. Adult season passes are $150 and a child's season pass is $60. Tickets can be purchased at the box office, at participating Walgreens stores, or online at http://www.RENFAIR.com/socal. The seven-week Faire is open every Saturday and Sunday from 10 in the morn, 'til 7 eventide April 8 – May 21 at the Santa Fe Dam Recreation Area, 15501 Arrow Highway, Irwindale, CA. A Vehicle Entry fee of $10 is charged by Los Angeles County. For more information, visit http://www.RENFAIR.com/socal.