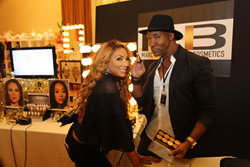 Los Angeles, CA (PRWEB) May 04, 2017
The moon was bright and the stars came out the night of the 44th Daytime Emmys Golden Gifting Suite at Pasadena Civic Auditorium.
If you missed Harry Connick delivering his two daughters you could get your fill of celebrity spotting with Alex Trebeck or go glamor couture hunting with Vanna White or Blair Underwood.
And no Emmy event would be complete without the eternally stunning Susan Lucci who graciously signed autographs and posed for pictures in the room full of celebrities like Tamar Braxton, Erika Jayne, Kelly Monaco and Loni Love who was spotted sampling the huge assortment of high-end goodies in the Gold Room.
The event lasted from 11AM until 7PM and saw hundreds of A-list daytime stars checking out the gift baskets of international gourmet foods, wine and desserts.
The gifting tables offered jewelry, watches, fashion, spa products and accessories. If you had twenty minutes to spare you could even sit down and have your teeth whitened on the spot at the Carte Blanche stand.
The Daytime Emmy nominees and presenters invitees experienced —a veritable body and mind make-over while they sorted through the free goodies. Those who didn't win an Emmy walked away with an abundance of free gifts that they could wear, display, apply or drink.
And between collecting all the sparkling swag they were pampered at booths with teeth-whitening, spray tanning and make-overs - not to mention cocktails, gourmet appetizers from all over the world. Everyone left the event fully prepped and primped and bedazzled for the evening's big the following night's Emmy Awards ceremony.
Other celebrities who joined in the Emmy gifting fun include, Mishael Morgan, Chris Hansen, Vanessa Williams, Billy Flynn, Marcie Miller, Donell Turner, Stacy Haiduk, Pierson Fode, Lexi Ainsworth, Brian Craig, Mary Beth Evans, Vincent Irizarry, Olivia Keegan, Judge Lauren Lake, Chloe Lanier, Jeffrey Vincent Parisi, Lawrence St. Vick, Tobias Truvillion and more!
The event was produced by 8-time Emmy winning producer Lisa Lew Brennan and Annette Bibbilover of Dreamhouse MBG.
AND THE DAYTIME EMMY WINNER IS …
1: Jeff Leatham Floral Design - Celebrity Florist Artistic Director - Floral/Design Studio -Four Seasons Hotel at Beverly Hills - Four Seasons George V Paris
http://www.jeffleatham.com
2 Single dress - Luxurious garments for independent, stylish and passionate women, 100% made in the USA, designed by Galina Sobolev
http://www.singledress.com/
3: The Wine Caterers - The Wine Caterers is a multi-niche wine tasting event company. The magical experience of private wine tastings at your favorite secluded vineyard, package for you to experience wherever you may be.
http://www.thewinecaterers.com/
4:Kate Mesta - Created the custom 44th Daytime Emmy Awards Kate Mesta Dog Tag. A limited edition one of a kind piece of art on military dog tag made in laguna beach USA.
http://katemesta.com/
5: Masqueology is reinventing skincare with a unique mask based treatment line that is convenient, portable and designed to target & meet individual skin care concerns. Masquelogy debut its 24kt Collagen Hydrogel gold mask, Charcoal & Aloe Vera mask along with its skin regiment sets.
http://masqueology.com/
6. Jessie Liu collection- A San Francisco-based women's ready-to-wear brand that encompasses fresh design, couture-level craftsmanship, and exquisite fabric choices, the brand offers affordability without compromising quality.
Jessie Liu's most defining characteristics are the uniquely strong graphics and stylishly designed patterns not found anywhere in the market .
All pieces were meticulously crafted and manufactured in the United States.
http://jessieliucollection.com/collections.html
7 Shavi Lewis - Sha`Vi is a limited luxury brand, with a strong focus on Women's Cocktail and Evening wear, based on the aesthetics of Modern, Sophisticated, Extravagance.
https://www.shavilewis.com/
8:Tennis Girl Rock - Tennis Girls Rock is a one of a kind tennis boutique that brings fun and vibrant fashion appeal to the tennis courts.
https://www.tennisgirlsrock.com/
9: Try The World India Box. Curating Chef Hemant Mathur brings you dishes from various regions.
A curated selection of gourmet foods—including ingredients to cook with, drinks, and snacks—from a new country every month, plus a Culture Guide to help you create an authentic culinary experience at home.
https://www.trytheworld.com/pages/selection
10: Face Camp - is a ground-breaking skincare line developed by international plastic surgery consultant Francesca Camp, Malibu-based natural cosmetics manufacturer Marissa Pomerantz, and an internationally renowned biochemist.
Originally developed for burn patients, FaceCamp features a patent-pending form of activated niacinamide plus a synergistic spectrum of anti-aging ingredients, not available in any other products. This enables FaceCamp to rebuild collagen and elastin, to heal blemishes, and to improve overall skin tone. FaceCamp is chemistry not chemicals, with results you have to see to believe.
https://facecamp.myshopify.com/
11: COLOREVOLUTION - Mineral makeup and beauty products for sensitive skin. Made in California. Retail, wholesale, and private label. FDA Approved facility.
https://www.colorevolution.com/
12:Vanity Girl Hollywood- Hollywood-style vanities and mirrors. Just like the ones you see backstage at a runway show or on a high-fashion photo shoot.
http://www.vanitygirlhollywood.com/
13: Marc Harvey Beauty Cosmetics - Makeup Artist and Creator Marc Harvey has created the best airbrush product on the market. These product(s) are catered specifically for the salon/spa industry.
http://www.marcharveybeauty.com/
14: KAX Tanning Souffle - The solution to fuss-free tanning is finally here. KAX Logo. The solution to fuss-free tanning is finally here. arrow. Shop Now. KAX No Mess.
httts://kaxtanning.com/
15:Carte Blance Teeth whitening - mobile teeth whitening services that comes to you.
http://www.carteblancheteeth.com/about.php
16: Alister Mekhi - A collection of trendy fashion accessories, Sunglasses, elegant jewelry, evening clutches set with swarovski elements crystal and Rhine stones.
17: Q&Q Quartz - Q&Q WatchOperate on Miyota Engine, Q&Q is, Quality (high quality ones) & Quantity (to more people) under the range of environmentally friendly products.
http://qq-watch.jp/eng/
18: Rock Tape - Helping athletes of every level go stronger, longer with the best kinesiology tape, cutting-edge education, and fitness support products. We want people to move more, and move better.
http://www.rocktape.com/
19: Flawless by Friday - Under eye bags, puffiness and sagging is a huge concern for so many people. Mesmereyes is a unique eye treatment that uses a cooling gel technology that lets you feel the difference right on contact. The 3 step unisex eye system features ingredients that work together to aid in all of the main concerns everyone has when it comes to their eyes - hydration, depuffing and firming.
https://www.flawlessbyfriday.com/products/mesmereyes
20: LA STYLE Magazine / Global Image - Curated high quality certificate of authenticity produce under direct license image collection complement every environment or to simply stand alone.
21: First Class Entertainment - is a lifestyle marketing artist and talent management company
22: Rocket Fizz - Rocket Fizz is a franchise chain of candy stores in the United States. The company markets a diverse variety of candies and produces its own line of soft drinks with unique flavors.
http://rocketfizz.com/
23: Poletus - Poletus multi-faceted company aiming to revolutionize the corporate workplace and the creative path to success.
Partnering with companies to create custom marketing & educational solutions driven by state of the art technology, and with creatives to build a professional brand & exuberant fan base.
https://www.poletus.com/
24: The Wine Caterers - The Wine Caterers is a multi-niche wine tasting event company. The magical experience of private wine tastings at your favorite secluded vineyard, package for you to experience wherever you may be.
http://www.thewinecaterers.com/
25: KeyNote - Keynote is a sophisticated, elegant Peach Moscato with a blend of fruit flavors.
http://www.themusicianswives.com
26: Asante Mama Tea - A one-of-a-kind African-inspired brand of herbal infusions, culinary spices, and cocoa to launch in the USA after receiving verification for over fifty products from the Non-GMO Project.
Asante Mama, a Uganda brand with natural and organic herbal teas, spices and cocoa has announced today that it recently earned the Non-GMO Project Verified certification a wide range of products.
https://asantemama.com/?v=7516fd43adaa
27 Quest Bars - #1 selling Quest Bar. 20 grams of high-quality protein, low carb and zero junk ingredients.
http://www.questnutrition.com/
28: Guayeco Gourmet Guarva Jam - The Guava Gourmet™ Family introduced an all-naturtal artisan guava preserves!
A delicious selection of handcrafted jam, marmalade and guava paste fresh from our family farms to your kitchen. Guava Gourmet promise to always provide only the best, all-natural products free of any artificial preservatives whatsoever.
http://www.guavagourmetfoods.com/
29: Stripper Chips
http://stripperchips.com/
30: Vere_Hair - The reshapr-able everlasting hairbands.
https://www.vere.store/
31: Pure Trim Mediterranean Wellness Shakes - This unique, whole body approach to weight loss is the solution for shedding pounds and for achieving overall wellness. In addition, it tastes delicious and leaves you feeling full for hours!
https://www.puretrim.com/puretrim-shakes.cfm
32: Adonis Organics - This Adonia Goddess Collection has everything you need to address your biggest beauty concerns. Whether it's minimizing the appearance of facial lines and wrinkles to firming and toning key areas of your body, this collection has everything you need to look your best!
https://www.adoniaorganics.com/
33: Verona Active Oil - Improve Focus and Concentration Active Essential Oil. Italian inspired organic blend that helps the mind stay focused and promotes mental clarity.
https://www.activeoils.com/
34:Sapphire dust - World class luxury clinical skincare developed by British doctors and scientists. Introducing the world's first sapphire microparticle exfoliator for facial skin.
http://www.sapphiredust.com/
35: Cosa Salvaje Tequila - 100% Pure Blue Agave tequila for people who want to experience a difference with an Ultra-Premium sipping tequila. An outstanding, smooth Tequila that is Sexy, Mysterious, Intriguing, Uninhibited and Edgy
Elle France's vison for Cosa Salvaje was to draw on her love for tequila and create a unique brand that brings people together.
Her goal in creating Cosa Salvaje or "Wild Thing" was for people to experience a sense of nostalgia when they see the bottle and take their first sips.
https://www.cosasalvajetequila.com/