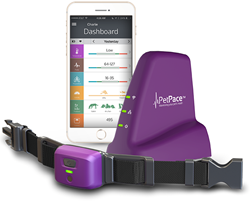 BURLINGTON, Mass. (PRWEB) May 05, 2017
PetPace, the provider of a Fitbit-like smart collar for the monitoring and analysis of pet health data, wants pet owners to know more about heart-rate variability (HRV) monitoring technology and what it means for their pet's health.
HRV is described as variations in inter-beat intervals regardless of the heart rate itself. Small changes in the way the nervous system controls the heart's pace can reveal a lot about stressors on the body. With pets, this information is vital because they are not able to verbally communicate pain like humans.
The HRV monitoring technology used in PetPace smart collars has proven to be a potential tool for veterinary professionals in case studies. HRV data may allow veterinarians to more easily manage post-operation pain for pet patients, or adjust treatments for pets with chronic pain conditions, such as degenerative joint disease or osteoarthritis.
"What we have discovered is that by using PetPace collars in veterinary practices, doctors are able to better understand how their patients are feeling and manage their pain more efficiently," said Dr. Asaf Dagan, DVM, Diplomate ABVP (Canine and Feline practice), and PetPace's Chief Veterinarian. "This technology is also valuable for pet owners because it gives them another method of communicating with their dog or cat and identifying problems with their health as it occurs."
Using advanced health monitoring devices allows pet owners to quickly identify impending health concerns, monitor existing medical conditions and learn more about their pets' daily habits.
The company's sensor-rich smart collars allow for remote continuous monitoring and analysis of pet vital signs and activity directly from a mobile device. Trackable vital signs include temperature, pulse, respiration, heart rate variability (HRV), activity levels, calories and more.
About PetPace
PetPace was founded in 2012 to bring peace of mind to pet owners and prevent unnecessary pain and suffering for dogs and cats through improved pet health and quality of life. PetPace specializes in the remote monitoring of pet vital signs by utilizing advanced analytical methods and alerting models. The company's low power, wireless collar is fitted with an array of sensors that report abnormal vital signs within established physiological and behavioral parameters. Once an abnormal sign or behavior is detected, a sophisticated cloud-based analytical engine evaluates the signs and if needed, sends an immediate alert regarding any suspected condition. This allows the owner or the vet to take preemptive action to protect the pet's health. For more information about PetPace real-time pet health monitoring, visit http://petpace.com.
For media-related inquiries, please contact our PR Firm by emailing news(at)judgepr(dot)com or calling 813.279.8335.
-30-