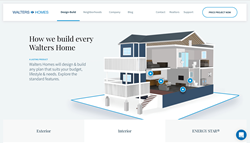 Barnegat, NJ (PRWEB) May 04, 2017
Walters Homes, a custom design-build firm founded in 1984, has launched a new responsive website that creates an engaging experience for users. The user-friendly website, http://www.waltershomes.com features interactive elements with custom illustrations, visuals, and blogs designed to provide inspiration for homebuilding projects.
"Our interactive website allows potential customers to easily navigate the homebuilding process and to explore the possibilities, which are virtually endless," said Matthew Gaudet-Walters, sales associate, who spearheaded the creation of the website with Fantasy, a leading digital design agency based in Silicon Valley and New York City. "Online visitors can gain valuable insight into all the steps involved in the construction of a new home. Depending on their requirements, Walters Homes can help them find a lot, customize their house plans or design a home from scratch. The site allows visitors to visualize the potential of each home with endless options."
The Technology Tells the Story
"The Walters Homes website is presented as a narrative, leading the user on a homebuilding journey," said Marc Anderson, creative director of Fantasy. "Through engaging informative content, the site encourages visitors to connect with Walters Homes directly for a personal conversation," said Anderson.
The easy-to-navigate format, enables users to gain a thorough understanding of the homebuilding process. Various design/build steps are outlined, including when material decisions need to be made, payments rendered, and site visits completed, according to Fantasy. Since it's completely responsive, website visitors can navigate with ease from any device.
In addition to navigation, the site maximizes the use of visuals by featuring drone footage and scenic photographs of coastal New Jersey. With the click of a mouse, visitors can get a bird's-eye view of neighborhoods or view lifestyle images to help them choose a location for their new home.
Through the use of interactive 3-D illustrated models on the design/build page, users can view deconstructed homes, which showcase surfaces, siding, utilities and more. The illustrative approach details the process and benefits including ENERGY STAR® certification and the various steps from contract signing to ownership.
"We've been building our trusted brand for over 30 years, and we will continue to implement strategies to help grow and strengthen our presence in the marketplace," said Gaudet-Walters.
The site includes an in-depth blog with a series of information related to the custom homebuilding process. And the website is supported by a number of Walters Homes social media platforms including Facebook, Twitter and Instagram.
###