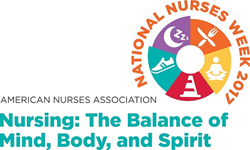 "Nursing is an art; and if it is to be made an art, it requires as exclusive a devotion, as hard a preparation, as any painter's or sculptors work." -Florence Nightingale
San Ramon, CA (PRWEB) May 08, 2017
As National Nurses week approaches, the CALNOC board and staff would like to take this moment to extend a special THANKS to nurses and their nursing team for the commitment they make each day to enhance the quality and safety of patient care. CALNOC recognizes the resilience and dedication required to do this incredible work and we honor nurses strength and dedication.
National Nurses Week activities and awareness are crucial to achieving that comprehensive approach to employee recognition. The American Nurse Association (ANA) chooses one distinct theme each year which runs May 6th-12th this year. This Years theme is "Nursing: the Balance of Mind, Body, and Spirit".ANA has designated 2017 as the "Year of the Healthy Nurse" and is offering a free Webinar, A Nurse's Guide to Preventing Compassion Fatigue, Moral Distress, and Burnout on Wednesday, May 10th at 10Pacific/12Central/1Eastern.
Click here to Register for the free webinar: Register Now Registration closes May 9th 7Eastern. Users can also download the Resource Toolkit which includes useful information and resources to make the most of your celebration:Resource Toolkit
CALNOC honors and commemorates the brave nurses like Florence Nightingale who have devoted their careers to caring for others. Florence Nightingale's birthday is May 12- ending National Nurses Week and celebrating 63 years of nationally recognizing nurses who make a difference each day by delivering compassionate care. Nurses hard work, perseverance and commitment are an inspiration to all.